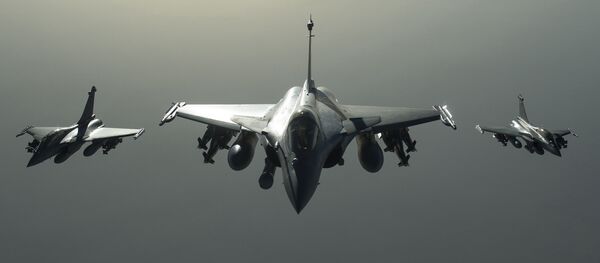 WASHINGTON (Sputnik) — On Thursday, the US-led
coalition said its aitsrikes in Deir ez-Zor
killed two senior members of Daesh terrorist group responsible for managing and directing external operations attacks and participated in attack plotting against the Middle East and Western targets.
The coalition has been conducting strikes in Deir ez-Zor for several monts almost on a daily basis. Last week, Sana news agency reported several times that civilians were killed in US-led coalition's strikes in the Syrian city of Deir ez-Zor.
Deir ez-Zor had been encircled by the Daesh terrorists since 2014 with its residents living in conditions of humanitarian catastrophe. However, the Syrian government forces were able to regain control over a half of the city this year. The Syrian forces continue an offensive aimed at lifting the siege and creating supply lines for the city's residents.
"Near Dayr Az Zawr [Deir ez-Zor], one strike destroyed a ISIS [Daesh] financial headquarters," the release stated on Friday.
The coalition conducted 12 other strikes in Syria near Al Shadaddi and Raqqa, destroying weapons, a mortar system, vehicle, supply route and other Daesh targets.
In Iraq, the coalition conducted five strikes consisting of seven engagements against the terror group near Kirkuk, Kisik and Tal Afar. The strikes engaged terrorist units and destroyed a command and control node, fighting positions, explosives facility and weapons