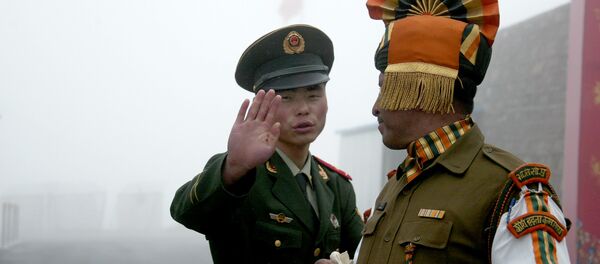 The conflict between the two countries in the disputed area, known as "Doklam" in India and "Donglang" in China, began in early June, after Chinese workers had begun building a highway through the area, triggering a protest from Bhutan. 
India maintains that the Doklam Plateau belongs to Bhutan and that China's recent effort to build a road in the area violates a 2012 agreement and significantly alters the status quo. 
China in its turn alleges that Indian troops crossed the border at Sikkim in mid-June to stop the People's Liberation Army (PLA) from constructing a road in Donglang.
On Thursday, Chinese Foreign Ministry Spokesperson Geng Shuang said in a statement, "The Indian side is always keeping 'peace' on the tip of its tongue. But we should not only listen to its words but also heed its deeds."
Radio Sputnik discussed the issue with Nitin Gokhale, an Indian security analyst and author.
"If China gets access into Bhutanese territory through the Doklam Plateau, through the road that they are trying to construct, then the Chinese forces have easy access to the Indian narrow corridor which connects the Indian mainland to its seven northeastern states, so strategically its very sensitive for India to stop forces coming into that area," Gokhale said.
He further said that the Bhutanese asked Indian troops stationed in the area to come and intervene because "Bhutanese alone do not have the strength to withstand Chinese pressure."
According to Gokhale so far Beijing has been unusually belligerent in its response to this issue and has been warning India of dire consequences.
"Even their diplomats in Delhi have been issuing statements saying that there would be consequences but at the moment India has stressed that this needs to be solved diplomatically through negotiations, although India is very clear that China has actually violated an agreement of 2012 between the three countries: to not alter the status quo from the ground until all three are consulted," the analyst said.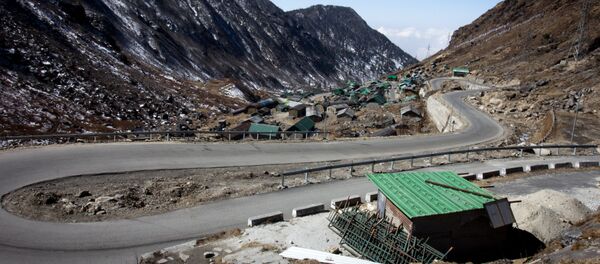 Talking about how likely it is for this
standoff
to develop into a fully fledged military conflict, Gokhale said that the conflict is not inevitable because India-China have a tense border problem, which goes back for decades.
"Nobody wants conflict or war but if it is thrust upon India, I think it is sufficiently geared up and has the ability to withstand any Chinese offences. India is no pushover militarily," the analyst said.
Looking at the political aspect of this standoff keeping in mind that the BRICS summit is due to take place in early September, the analyst said that probably this will not "dampen the meeting between the leaders but there certainly would be some overhanging tension between the two Asian giants," he said.
According to the analyst, over the last 10 to 15 years Indian military strength has grown and if earlier China kept improving the areas near the borders and in Tibet, now China can see that in the border face-offs between the two country's troops, India also has military say.
"I think such border skirmishes will continue to happen until there is a fully resolved boundary situation with proper demarcation on which both can agree," Gokhale concluded.