The Korean Crisis continues to spin out of control with Trump laying the blame squarely on China's shoulders, sparking a discussion about what – if anything – Beijing can really do to rein in Pyongyang. The US is upset that North Korea won't stop its missile tests and is reportedly preparing for another nuclear one as well, and it seems as though some in the Trump Administration expected this to have never gone as far as it did because they were depending on China to calm down the situation.
The President publicly shared this hope on several occasions in the past, but just the other day he tweeted: "I am very disappointed in China. Our foolish past leaders have allowed them to make hundreds of billions of dollars a year in trade, yet they do NOTHING for us with North Korea, just talk. We will no longer allow this to continue. China could easily solve this problem!"
I am very disappointed in China. Our foolish past leaders have allowed them to make hundreds of billions of dollars a year in trade, yet…

— Donald J. Trump (@realDonaldTrump) July 29, 2017
The President's prevailing presumption – whether sincerely expressed or part of a Machiavellian script – is that China has such influence on North Korea that Pyongyang is pretty much Beijing's puppet, but it's here where the controversy arises.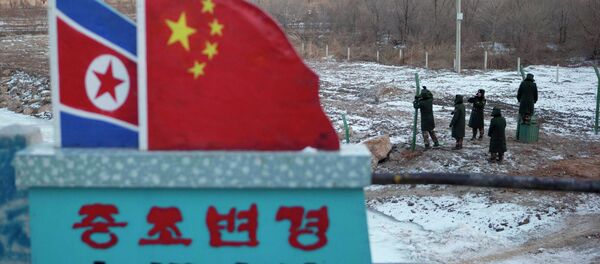 China helped pass the UN Security Council sanctions against North Korea for its missile and nuclear tests, and it understands that Pyongyang is playing right into Washington's palms by violating them because it's creating a publicly plausible pretext for the Pentagon to deploy the THAAD anti-missile system right on the doorstep of the People's Republic. This fact alone proves that North Korea is more of a "rogue state" as regards Chinese interests than it is a "puppet state," but Beijing's hands are tied in dealing with its neighbor because it doesn't want to inadvertently catalyze a humanitarian crisis and/or set into motion a scenario whereby American troops could dangerously return to the banks of the Yalu River.
At the same time, however, the clock is ticking and the US is ratcheting up the pressure on China amidst reports that sanctions are now being considered if it doesn't become more "helpful," so the People's Republic needs to come up with a workable strategy towards Pyongyang – and fast – unless it's prepared for handling another deterioration in its ties with Washington.
Louis Lim, international management consultant and former university lecturer on Asian Management who has seen and participated in Asian economic development since the seventies; and Michael Loh, retired Malaysian civil servant who studied political science at the University of Auckland and is now a current affairs commentator discussed the issues.
Want to sound off and share what you think about this? Send us an email at radio@sputniknews.com or find us on Facebook!