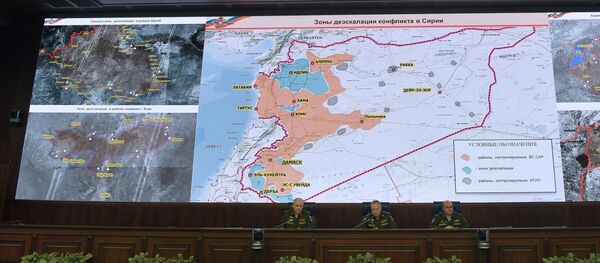 BEIRUT (Sputnik) – The agreement was signed on Monday by representatives of the reconciliation center and a tribal elder.
"According to the representative of the tribe, thanks to the efforts of the Russian party, the sheikh [of the tribe] is now fighting with his unit of 750 people against [Daesh] in the eastern front," the source said.
The source added that the reconciliation center was working to create the national reconciliation committee that would include representatives of the Syrian government and civil administrations of the settlements located in the de-escalation zones and controlled by illegal armed formations.
"While signing the agreement, the tribe's elder and sheikhs of different tribes of the southern de-escalation zone expressed gratitude to Russia for the re-establishment of peace in the country," the source said, adding that another tribe showed interest in signing the loyalty agreement with the Syrian government.
The Syrian civil war has been raging for six years, with government forces fighting against both Syrian opposition groups, who strive to overthrow President Bashar Assad, and numerous extremist and terrorist groups such as Daesh and Jabhat Fatah al Sham, outlawed in Russia.
In May, the participants of the Astana talks on Syrian settlement agreed on establishing four safe zones in Syria as part of the de-escalation process. The first one, in the north of the country, covers the province of Idlib and neighboring districts of Latakia, Aleppo and Homs. The second is in the north of the province of Homs. The third is located in the south of Syria, in the Quneitra and Daraa provinces, while the fourth one is in Eastern Ghouta.