WASHINGTON (Sputnik) — On Monday, a federal judge threw out a motion by CIA-contracted psychologists and torture program designers, James Mitchel and John "Bruce" Jessen. The case will now start on September 5, the American Civil Liberties Union (ACLU) said in a statement. It will be the first case regarding CIA torture to go to trial.
"It's a wonderful thing that there will be at least some sort of accountability," Kiriakou said. "The best possible outcome will be that Mitchell and Jessen will have to pay their victims. This could amount to millions of dollars."
Kiriakou gained international recognition as the only person the US government sent to prison for exposing the George W. Bush administration's torture program. However, not a single US official who participated in torture activities has ever been convicted or even faced jail time.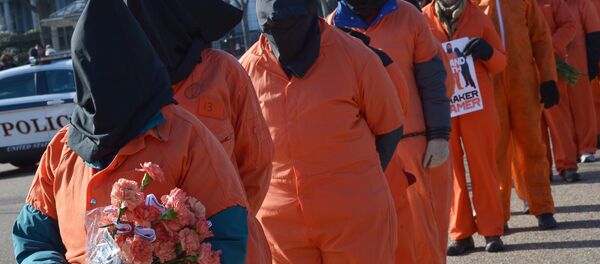 The former CIA officer said that even if the civil lawsuit now goes ahead in a federal court and the plaintiffs win, no one will be held legally accountable or face jail time for carrying out the so-called "enhanced interrogations."
Kiriakou said it was significant that the current CIA leadership appeared to have withdrawn its full support and approval from the two psychologists who designed the torture program for them, and who each became multimillionaires as a consequence.
However, the current law suit still fell far short of any legal accounting against the psychologists or the officials who carried out the torture activities themselves, Kiriakou cautioned.
Nevertheless, Kiriakou praised the federal judge's decision to allow the trial against the two psychologists to proceed, calling it a "baby step" in the right direction.
The ACLU filed the lawsuit against the psychologists on behalf of Suleiman Abdullah Salim, Mohamed Ahmed Ben Soud, and the family of Gul Rahman, who froze to death in a secret CIA prison.

The torture methods used on Salim Soud and Rahman included slamming them into walls, stuffing them into coffin-like boxes, exposing them to extreme temperatures, starving them, inflicting various kinds of water torture, and chaining them in stress positions designed to inflict pain and keep them awake for days on end, the ACLU said.
In 2014, the Senate Intelligence Committee released an executive summary of a more than 6,000 page report concluding that CIA detainees were tortured under a program enacted between 2001 and 2007, at the early stages of the US War on Terror.