MOSCOW (Sputnik) — Russia's air defense systems in the country's Far East region have been enhanced and put on a state of high alert in connection with the escalated situation around North Korea's recent missile tests, Russia's upper house of parliament lawmaker Viktor Ozerov told Sputnik on Friday.
"What is happening now around North Korea cannot but cause our sense of concern and understanding of the need for additional measures to protect our territory. Air defense and aerospace forces were reinforced in the Far East region," Ozerov, former chairman of the defense and security committee of Russia's upper house of parliament, said.
According to the lawmaker, air defense systems in the Russian Far East are in a state of high alert.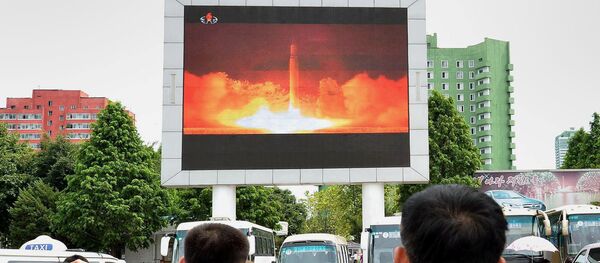 11 August 2017, 05:59 GMT
"We are monitoring everything that is happening around North Korea. The zones of the possible launches [of North Korean missiles] were given increased attention," the lawmaker added.
The situation on the Korean Peninsula has become aggravated in recent months due to a series of missile launches and nuclear tests conducted by Pyongyang in violation of UN Security Council resolutions.
North Korea's military said Wednesday it was considering a missile attack near the US island territory of Guam after President Donald Trump threatened Pyongyang with "fire and fury." Guam hosts several US military bases.