The deployment of the British Army in Northern Ireland had been mooted as early as 1966, when violence erupted between the newly formed Ulster Volunteer Force and armed Republicans, marking the beginning of "the Troubles."
Initially, the UK government and military commanders alike were reticent to station forces in the province — to do so would be to tacitly concede that Stormont — the regional government — had lost control of events. However, come the summer of 1969, with violent riots raging in many communities on a daily basis, Northern Irish leaders could not deny the facts on the ground, and formally requested British military intervention.
While perhaps inconceivable from a contemporary perspective, many Catholics initially welcomed the British Army's deployment. It was hoped troops would be a dispassionate influence on events, halting violence directed at Catholic neighborhoods by Protestant paramilitaries and the Royal Ulster Constabulary (RUC).
The August 28 removal of security powers from Stormont and the RUC seemed to confirm this optimism, and meetings between UK Home Secretary James Callaghan and Catholic leaders, in which reforms and civil rights protections were promised, only added to the sense things would change for the better.
Furthermore, the September Cameron Report vindicated many of the Catholic community's complaints about discrimination, harassment and violence directed at them by the RUC.
However, this goodwill would be short-lived. The reaction of British troops to civil disorder tended to be militaristic and heavy-handed.
In April 1970, violence erupted in the Ballymurphy housing estate in western Belfast, after an Orange Order parade passed by. Catholic youths clashed with Loyalists, and troops were sent to quell the violence. When soldiers were pelted with stones, they responded with canisters of CS gas, which impacted not only agitants, but thousands of residents uninvolved in the rioting.
In July, frustrated by rising gun violence, troops surged into the Catholic stronghold of Lower Falls, locked down an area encompassing 50 streets, imposing strict curfews and carrying out house-to-house searches for weapons. The operation produced violent clashes between residents and soldiers, with five civilians killed, and many others injured by gunfire or CS gas.
Increasingly, British military intervention was perceived as effective martial law, imposed by a foreign imperial army and designed to prop up the collapsing, illegitimate Stormont government. As a result, militant voices within the Irish Republican Army (IRA) began calling for all-out war against British soldiers, although mainstream IRA leaders rejected the strategy.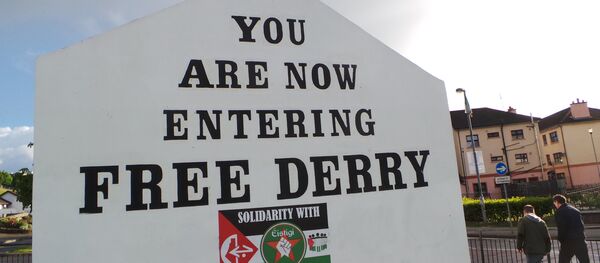 This dispute led to a split within the movement, and the creation of Provisional IRA — also known as Provos — a radical and more violent force than its parent. Throughout 1970, the Provisional IRA recruited civilians and published propaganda attacking the "British occupation."
IRA volunteers, often young, also provoked civil unrest and violence. Leaders were aware the ensuing disorder could trigger a disproportionate response from British troops, engendering further disillusionment towards the Army and potentially recruiting further individuals to the Republican cause.
Come 1971, the Provisional IRA was primed for battle with the British. Its first victim was Robert Curtis, a 20-year-old soldier gunned down by a sniper February 6 while on foot patrol. Before the month was over, Provos had killed another British soldier, two RUC officers and five BBC employees. In response, Prime Minister James Chichester-Clark resigned in March, to be replaced by Brian Faulkner.
Faulkner initially pursued a conciliatory stance, appointing a non-Unionist MP to his cabinet and a Catholic as Minister of State, and giving nationalists key roles in government committees. However, these efforts largely fell on deaf ears, drowned out by the escalating crescendo of paramilitary violence engulfing the region. By this time, Protestants and Catholics alike had lost much of their faith in the British Army's ability to deliver an equitable peace.
What trust did remain among Northern Ireland's Catholic population was terminally shattered in January 1972, when British paratroopers opened fire on unarmed protesters in the notorious Bloody Sunday massacre, killing 14 and injuring dozens of others.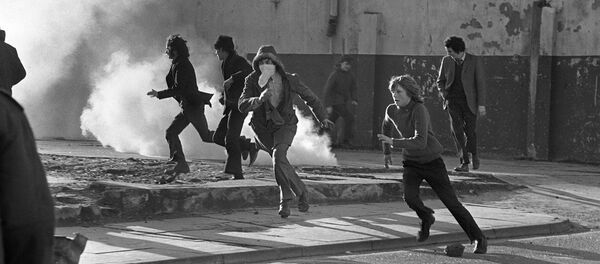 8 January 2015, 16:15 GMT
On top of the disproportionate brutality displayed by British forces, the subsequent official investigation into the tragedy was regarded as a corrupt whitewash. It concluded paratroopers had responded to gun and nail bomb attacks from suspected IRA members, despite every non-military eyewitness present maintaining soldiers fired without provocation into the unarmed crowd, at civilians fleeing the scene and those tending to the wounded, no British soldier suffering any injuries in the incident, and no non-military bullets or nail bombs being recovered from the scene.
It would not be until June 2010 that the Saville Inquiry concluded British soldiers had caused the deaths of innocent civilians who posed no threat of "causing death or serious injury." Moreover, the Inquiry's report made clear soldiers involved in the incident had lied in an attempt to conceal their actions.
British forces had arrived in Londonderry to restore order, and serve as a neutral arbiter in disputes between Catholics, Protestants and local authorities of every stripe. Within 18 months, they had become embroiled in an increasingly lethal sectarian hornet's nest, with no obvious end in sight. While victory appeared wholly intangible, withdrawal was an equally absurd prospect. Somehow however, the worst was arguably yet to come.