Ms. Li, then 29, was hiking in Colin Glen Forest Park, on the outskirts of Belfast, Northern Ireland, when she was spotted by 15-year-old Edward Connors, who pretended to ask for directions, followed her and then attacked her.
"It was very violent. I had 39 separate injuries, according to the police report," she told Sputnik.
"A lot of what people don't understand about rape is that when you are in that situation, as a victim, many people feel their life is threatened and they are going to die," Ms. Li told Sputnik.
"Nobody wants to die. So often it's either be killed, or seriously injured, or do this thing you don't want to do. I don't know anyone who would take the first choice…everyone wants to survive. That's what the police officer said to me 'You did what you had to do to survive'," she added.
'Complete Shock'
"After the perpetrator left the scene I was in complete shock and didn't really know what to do, but I knew I needed medical attention as I had basically been beaten up," she told Sputnik.
"I called a friend and I told her 'I don't really know where I am, but I think I've just been raped' and to her credit she was very helpful and got the police involved," said Ms. Li.
It took about 20 minutes before police officers finally found Ms. Li and began their investigation, which included taking forensic samples from her body.
The next day she flew back to London, where she was working as a film producer, still in profound shock.
"Coincidentally there was the red carpet premiere of a film I had worked on at Leicester Square that Sunday evening, and I went to that premiere 24 hours after my own rape, which was very disorienting and very surreal. But I didn't want what that boy had done to me to rob me of that opportunity to go that premiere of a film I had worked really hard on," she told Sputnik.
'I Was Numb for a Year'
"I had to put on a designer gown and all this concealer to cover up my bruises and I was very much numb. I was probably numb for the whole year after the assault, to be honest," Ms. Li told Sputnik.
A few days later Connors was arrested by the police and Ms. Li was later asked to do an identity parade, via a videolink.
"I was terrified that I wasn't going to be able to identify my perpetrator…but the moment he came up, I knew it was him," she told Sputnik.
The following year Ms. Li flew over to Northern Ireland and was preparing to testify at his trial.
"That is quite possibly the worst thing a rape victim has to go through, the thought of testifying in public in front of the perpetrator," she told Sputnik.
But Connors pleaded guilty on the eve of his trial and was jailed for eight years, of which he served less than half.
Ms. Li was in a tiny minority — rape victims who see the perpetrators convicted.
'Six in 100 reported rapes end in convictions'
She said as little as six percent of reported rapes in England and Wales results in a conviction and she said reported rapes were only a "drop in the ocean" in comparison to unreported rapes.
Connors, who was illiterate and had a violent background, was released in 2012 but later breached his probation and vanished in Dublin for more than a year. He later served more time in prison and is currently believed to be living in Belfast.
"I go to Belfast fairly regularly for work and part of me has it at the back of my mind: I always know he is there in Belfast. Part of me thinks I can't spend the rest of my life hung up on where this one individual is. I need to move on with my own life and do my own thing," she told Sputnik.   
Ms. Li, who is Taiwanese-American, said it took her a long time to be able to tell her parents what had happened to her, partly because she was worried of their reaction and that they might say something about her deciding to go hiking on her own on that fateful day.
"I kept on saying to myself 'how did I let this happen to me?' but the point is that it's not something that you let happen to you. It's something that another person decides to do to you," she told Sputnik.
"We go around as individuals in the early 21st century thinking that we are in control of our own lives and that everything we do has a reaction but actually sometimes criminals just decide to do stuff to us. But it's a natural human response to think it's something we did. Sometimes the answer is that no, there is nothing you could do to avoid it," Ms. Li told Sputnik.
She said she realized about five years after the attack she was ready write a novel, loosely based on what had happened to her. The main character, Vivian, is similar to her and the rapist, Johnny, is a fictional version of the perpetrator she will never know in real life. There are significant differences from real life and she has taken artistic license with several aspects, for example the trial scenes.
'It Wasn't a Joy to Write Those Scenes'
She said writing the book was in some ways cathartic.
"It was painful to write Vivian's section, especially in the aftermath of what Vivian goes through because I was effectively reliving the worst period of my life…it wasn't a joy to write those scenes but I thought it was important to convey what it is that rape victims go through," Ms. Li told Sputnik.  
© Photo : Legend Press
The cover of the novel Dark Chapter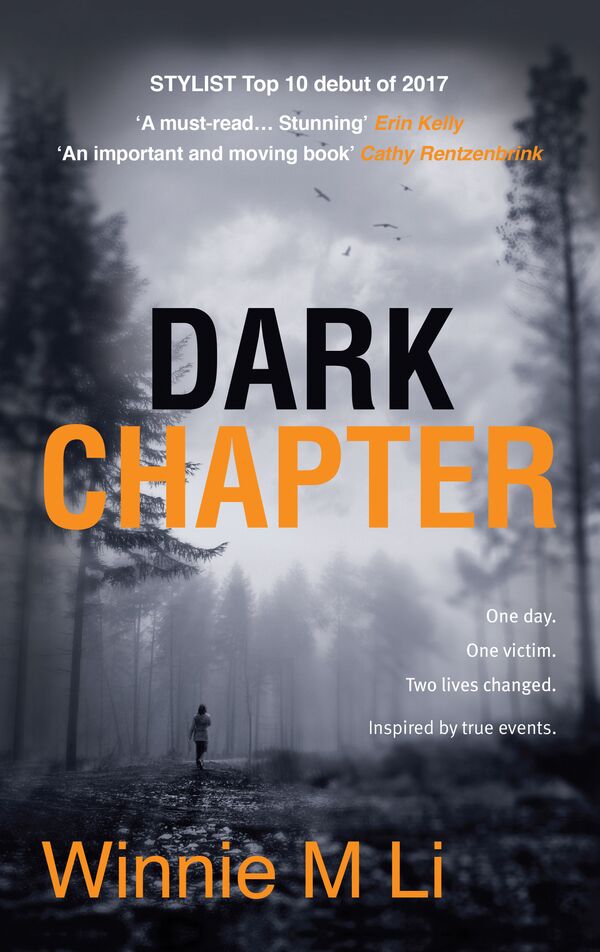 The cover of the novel Dark Chapter
Ms. Li has now become an activist for rape victims' rights and she said the statistics were quite shocking, with only 15 percent of rapes being reported.
"The statistics for rape are that one in six women, possibly closer to one in five, will experience sexual assault, so it's a pretty common experience unfortunately. That was one of the reasons I wrote the book. I started talking to my friends about it and I realized that a lot of people I know have been raped. So why aren't we talking about this?" she told Sputnik.
The Crown Prosecution Service (CPS) publishes an annual report on its strategy for combating Violence Against Women Girls (VAWG).
"The CPS is prosecuting and convicting more rape cases than ever before. Continuing to improve our work on rape remains a key priority. All rape cases are handled by specially trained prosecutors in Rape and Serious Sexual Offences Units. Complainants are offered a number of special measures when giving evidence in court, which include live video links and screens," said a CPS spokeswoman. 
Dark Chapter was published in the UK recently and is due to come out in the US and Canada in September. Translation rights into seven languages have already been sold.