MOSCOW (Sputnik) — Syrian President Bashar Assad on Sunday praised the role of Syria's partners in helping the war-torn country in resolving its six-year conflict by offering political, economic and military support.
"The direct political, economic, and military support of our friends made the possibility of advancing on the ground greater and the losses fewer, and these friends are our actual partners," Assad said at a conference at the Foreign and Expatriates Ministry, as quoted by the SANA news agency.
The Syrian leader stressed that the country is not isolated and continues to cooperate with the outside world in rebuilding its economy despite some states' support for terrorism in Syria.
"There will be no security cooperation or opening of embassies or role for some states that say they are looking for a solution until they cut off their ties with terrorism in a clear and unambiguous way," Assad stated.
The president went on to praise Russia's and China's role in supporting Syrian integrity when voting in the UN Security Council.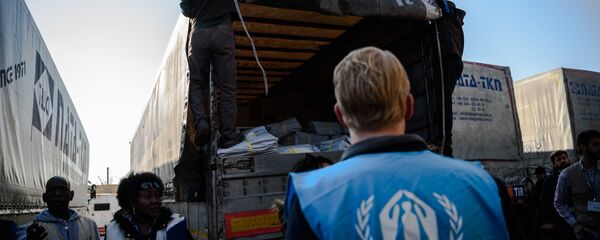 20 August 2017, 07:48 GMT
China and Russia, both permanent Security Council members, have used their veto power nearly 10 times since 2011 to block resolutions either condemning Syrian forces or imposing sanctions on the country.
Russia has also been involved in a military campaign, which started in 2015, to help Damascus combat terror groups, as well as humanitarian operations to deliver aid to Syrians in need of basic necessities.