Donald Trump's Afghanistan plan, outlined by the US president on Monday evening, clearly indicates that the US is intending to continue meddling in the domestic affairs of other countries, Leonid Ivashov, president of the Academy of Geopolitical Problems, told RIA Novosti.
"One thing is clear," Ivashov emphasized, "The Americans will increasingly interfere in internal affairs of other states using both 'soft power' and military force."
On Monday evening President Trump delivered a speech at Fort Myer military base in Arlington, laying out his military plan for the 16-year-old conflict in Afghanistan.
The US president signaled that he is expanding the Department of Defense's authority in the region and boosting American troop levels on the ground. He added that the Pentagon would not make public either the number of troops or its military plans in Afghanistan.
"We will not talk about numbers of troops or our plans for further military activities. Conditions on the ground, not arbitrary timetables, will guide our strategy from now on. America's enemies must never know our plans or believe they can wait us out," Trump stated.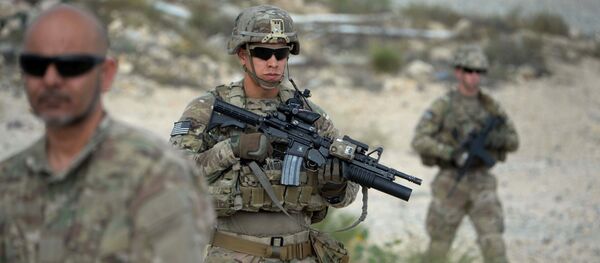 23 August 2017, 15:06 GMT
"We will ask our NATO allies and global partners to support our new strategy, with the additional troop and funding increases in line with our own. We are confident they will," the US president underscored.
Commenting on Trump's speech, Ivashov pointed out that what the US president said Monday was in contradiction to his position as a Republican candidate and his stance during the first weeks of his presidency.
Initially, Trump called upon the Americans not to meddle in the internal affairs of other countries and not to beef up US military presence overseas. However, now the US president is determined to expand the Pentagon's powers abroad while keeping America's military operations overseas secret.
"It's hard to understand what exactly Mr. Trump wants," the Russian military expert noted, adding that it appears that the US president "did not have a political strategy regarding the presence of American troops abroad."
Russian journalist Mikhail Sheynkman echoes Ivashov.
Speaking on Radio Sputnik, Sheynkman recalled that since 2011 Trump had urged former President Barack Obama to bring the war to an end.
Indeed, in 2012 Trump tweeted that "Afghanistan is a complete waste" and it was time for US troops to return home.
Why are we continuing to train these Afghanis who then shoot our soldiers in the back? Afghanistan is a complete waste. Time to come home!

— Donald J. Trump (@realDonaldTrump) 21 августа 2012 г.
​In 2013 he reiterated that the US should leave Afghanistan immediately. 
We should leave Afghanistan immediately. No more wasted lives. If we have to go back in, we go in hard & quick. Rebuild the US first.

— Donald J. Trump (@realDonaldTrump) 1 марта 2013 г.
​"We should leave Afghanistan immediately. No more wasted lives. If we have to go back in, we go in hard & quick. Rebuild the US first," Trump tweeted.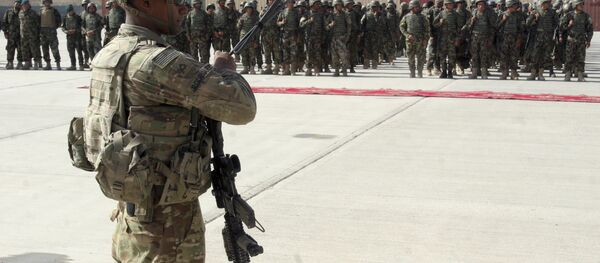 22 August 2017, 21:46 GMT
However, in August 2017 President Trump announced that the withdrawal would create a power vacuum which would be immediately filled by terrorists, Sheynkman remarked.
The question arises what lay at the root of Trump's apparent change of heart.
According to Ivashov, there could be at least three possibilities: first, Trump's political opponents could have pressured him into changing his mind; second, the US president is simply seeking to improve his ratings; third, he secretly harbored this plan since his election campaign.
"He says one thing, but means another," Ivashov stressed.
"So, we can expect, and this has already become obvious, that the US will expand its intervention in the internal affairs of other states. We are already observing this in Russia: the US' pressure and internal intrigues in our country will only increase," the military analyst believes.
Following the terror attack on September 11, 2001, the US kicked off their military operation against terrorists in Afghanistan which turned out to be one of the longest wars in America's history.
The US together with the NATO-led International Security Assistance Force (ISAF) had been combating the Taliban and al-Qaeda terrorists up to 2014. On January 1, 2015, a new NATO-led mission dubbed Resolute Support aimed at training, advising and assisting the Afghan security forces was launched.
The actual number of US troops on the ground in Afghanistan has varied from year to year. Currently, the US has about 8,400 troops in Afghanistan.