MOSCOW (Sputnik) – The US Navy Seventh Fleet Commander Vice Adm. Joseph Aucoin was dismissed on Wednesday due to the loss of confidence following two deadly accidents involving the fleet's vessels, the Navy said in a statement on Wednesday.
"Adm. Scott Swift, commander of US Pacific Fleet, today relieved the commander of Seventh Fleet, Vice Adm. Joseph Aucoin, due to a loss of confidence in his ability to command. Rear Adm. Phil Sawyer, who has already been nominated and confirmed for the position and promotion to vice admiral, will assume command immediately," the statement read.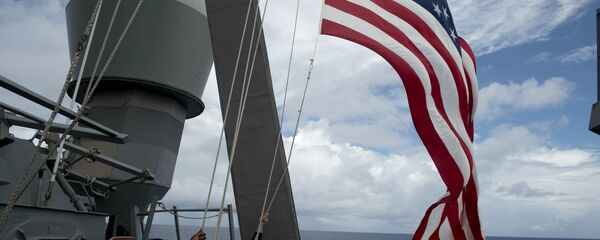 22 August 2017, 06:49 GMT
On Monday, five sailors were injured after US destroyer John S. McCain collided with the Alnic MC oil tanker near the Malacca straits. Four sailors were taken to local hospitals, while the injury of the fifth sailor did not require hospital assistance. A US Navy Pacific Fleet commander said that divers had located human remains inside the flooded compartments of the destroyer. The exact number of victims is still unclear but 10 US sailors went missing after the accident.
In June, seven sailors were killed in a separate incident when the US destroyer Fitzgerald hit a cargo ship off the coast of Japan. Both vessels belong the Seventh Fleet.