In the past 24 hours, Russian aviation destroyed terrorist targets in Deir ez-Zor amid the Syrian army's offensive to free the area around the city from the Daesh terrorist group.
"Russian aviation continued to successfully attack Daesh targets, destroying four tanks, 16 all-terrain vehicles armed with heavy machine guns, six heavy vehicles with ammunition, and two fortified artillery positions."
The Russian Defense Ministry said that Daesh terrorists are regrouping and preparing fortified areas in Deir ez-Zor after the Syrian government troops' advance in the Euphrates Valley region with Russian aerial assistance.
"The effective actions of Russian warplanes allowed the Syrian government forces under the command of Gen. Hassan Sukhel to continue the offensive along the eastern bank of the Euphrates River to Deir ez-Zor aimed to lift its siege."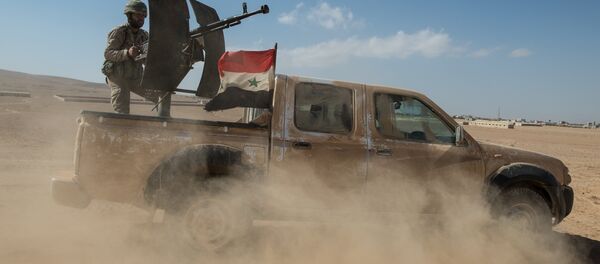 27 August 2017, 09:58 GMT
Daesh is transferring heavy military equipment, including tanks and pickup trucks equipped with large-caliber weapons and mortars to Deir ez-Zor amid the Syrian army's operation, the ministry said.
"While realizing that the foothold around Deir ez-Zor is the last stronghold of international terrorists on Syrian soil, militants are transferring heavy equipment, including tanks and all-terrain vehicles armed with large-caliber guns and mortars."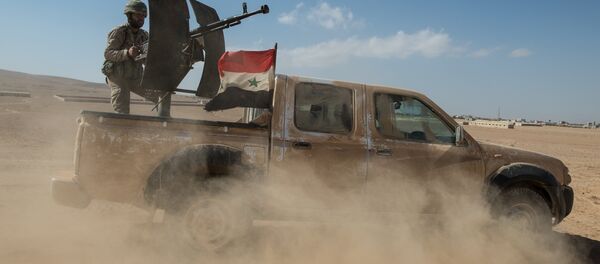 25 August 2017, 12:02 GMT
The Syrian army and self-defense units supported by the Russian Aerospace Forces have significantly
advanced
toward Deir ez-Zor from 
three directions
, the Russian General Staff said earlier this week.
The lifting of the siege of Deir ez-Zor will lead to the complete defeat of the most combat-effective formations of the Daesh terrorist group in Syria, the chief of the Russian General Staff's Main Operational Directorate said on Friday.
Deir ez-Zor, located on the shores of the Euphrates River to the northeast of Damascus, and a military airfield near the city have been besieged by Daesh for over three years, with food and ammunition only being delivered by air.