PARIS (Sputnik) — New US sanctions open up opportunities for European companies to develop cooperation with Russia, Russian Economic Development Minister Maxim Oreshkin said Tuesday after a meeting with French businesses.
"Indeed, we touched upon the issue of sanctions, discussed the issue of new legislation on the part of the United States," Oreshkin said.
"I noted here that the reaction on the part of European partners and European companies is more positive, therefore, the situation affects very little the relations between Russia and Europe. It can even be said that it provides new opportunities for European partners, they understand this and going to actively develop their business in Russia," he said.
Anti-Moscow sanctions imposed by the EU and the US have motivated the development of the Russian economy, but may also dampen future endeavors with international partners, he said.
"Indeed, when sanctions were imposed, they had an impact on the balance of payments and the dynamics of the Russian economy. But in many ways, they became a motivating factor for Russian companies, government and citizens, pushing them to be more active in developing the state's economy. From this point of view, there is a kind of positive effect," Oreshkin told journalists.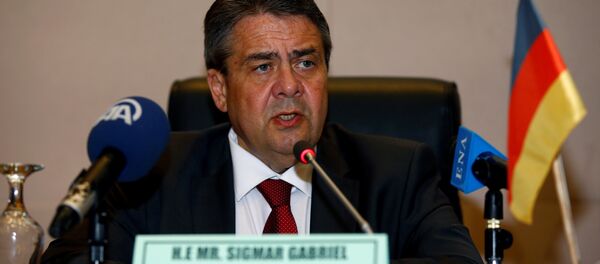 28 August 2017, 10:01 GMT
However, if restrictions are not lifted, they will hamper Russia's ability to develop projects with its partners in the future, according to the minister.
"Russia is part of the global world, and we need to develop joint projects with our partners, but sanctions being introduced by the partners prevent us from doing this," Oreshkin said.
The sanctions bill against Russia, Iran and North Korea signed into law by President Donald Trump in early August has been criticized by the European Union, particularly due to the concerns that the new sanctions will impact its economic interests, especially its energy cooperation with Russia. France and Germany have spoken out against the bill as it affects European industries while advancing US commercial interests.