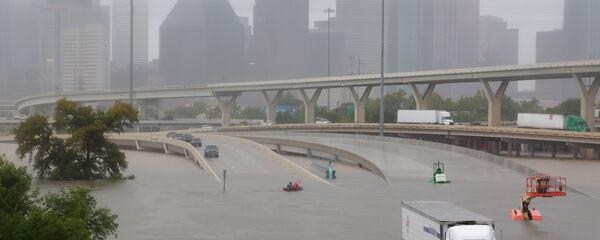 29 August 2017, 22:55 GMT
WASHINGTON (Sputnik) — The chemical manufacturing plant Arkema evacuated its employees on Tuesday due to the potential of an explosion caused by the flooding in the aftermath of Hurricane Harvey, the company said in a press release.
"The situation at the Crosby site has become serious… all personnel have been evacuated from the site at this time," the release stated on Tuesday. "At this time, while we do not believe there is any imminent danger, the potential for a chemical reaction leading to a fire and/or explosion within the site confines is real."
Media reported that residents within a 1.5 mile radius of the plant have also been evacuated due to the risk of a fire or explosion. Arkema manufactures organic peroxides at its plant, the report stated.
The refrigeration units used to store the chemical containers at the plant have been damaged by the flooding, the release stated. The company is monitoring temperatures of each refrigeration container, the release added.