MOSCOW (Sputnik) — According to the NHK broadcaster, nearly 50 Japanese residents of Rohingya origin, with the majority of them coming from city of Tatebayashi in Gunma Prefecture, held a demonstration in Tokyo's Shibuya district this afternoon.
The peaceful demonstrators marched through Tokyo's streets, carrying placards and banners, urging Myanmar's government to stop attacking innocent people. They also called on the international community to exert efforts to reconcile violent clashes, chanting "We ask the United Nations and the Japanese government to provide support for peace."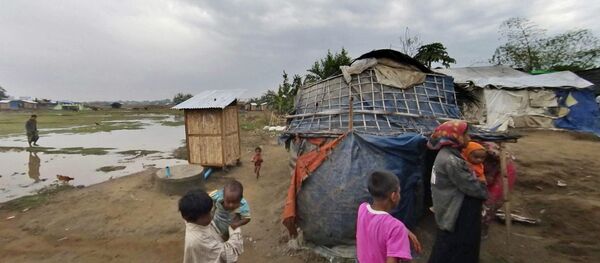 15 August 2017, 00:21 GMT
Last week, Muslim insurgents of Rohingya origin attacked security posts in Rakhine. The attacks prompted a harsh response from authorities, with the ongoing clashes between Burmese armed forces and Muslim insurgents killing at least 109 people. More than 18,000 Rohingya refugees have fled to Bangladesh since ethnic clashes flared up in Rakhine state, according to the International Organization for Migration's (IOM).
Rakhine is a site of frequent clashes between Myanmar's Muslims and Buddhists. The conflict that started about a century ago has gradually escalated since 2011 before hitting its peak in 2012, when thousands of Muslim families sought asylum in the special refugee camps on the country's territory or fled to Bangladesh. Yet another escalation started in 2016.