MOSCOW (Sputnik) — The international community has condemned Pyongyang's latest nuclear test, which took place on Sunday, and is now looking for new deterrence options.
Possibly Hydrogen
North Korea reportedly said on Sunday that it had successfully tested a hydrogen bomb that could be loaded on an intercontinental ballistic missile. The shockwaves from the test were first registered in China, then in South Korea and Japan, before spreading further out.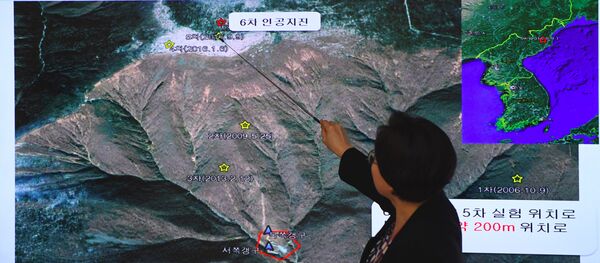 3 September 2017, 07:02 GMT
Executive Secretary of the
Comprehensive Nuclear-Test-Ban Treaty Organization (CTBTO)
Lassina Zerbo said that the "physics of the event" suggested that it was a larger test than the one carried out by Pyongyang in 2016. Zerbo added that the organization was trying not to speculate on whether this was a test of hydrogen bomb.
Hydrogen bombs, also called thermonuclear bombs, use nuclear fusion, which releases far more energy than splitting of the atoms used in atomic bombs.
Japanese Chief Cabinet Secretary Yoshihide Suga said Sunday that Tokyo could not rule out the possibility that Pyongyang tested a hydrogen bomb.
Urgent Search For Measures
The latest test was immediately condemned by leaders of many countries and prompted discussions about the potential response.
Chung Eui-yong, a security adviser to South Korean President Moon Jae-in, reportedly said that Seoul would seek new, powerful sanctions by the UN Security Council. Chung also said that Seoul and Washington might discuss the deployment of "powerful US tactical assets" in South Korea.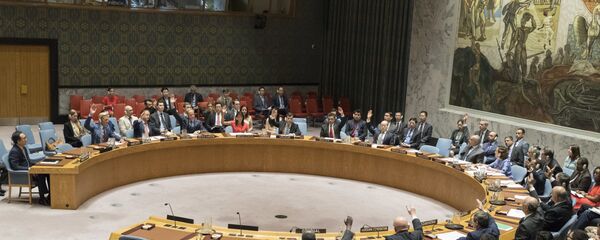 3 September 2017, 18:47 GMT
German Chancellor Angela Merkel said during televised debates with a political rival that she would discuss the North Korean issue with Russian President Vladimir Putin, Chinese President Xi Jinping, US President Donald Trump and promote a peaceful solution.
According to Kremlin spokesman Dmitry Peskov, Putin has already discussed the latest escalation with Japanese Prime Minster Shinzo Abe in phone talks and agreed to further address the issue during their meeting at the Eastern Economic Forum on September 7. The Russian president also spoke with his Chinese counterpart and the two agreed that the nuclearization of the Korean Peninsula was absolutely inadmissible.
The Kremlin spokesman also pointed out that the sanctions against Pyongyang had proven to be ineffective.
In early August, the UN Security Council adopted a resolution tightening sanctions against North Korea, in particular banning UN member states from importing coal, iron ore, lead and seafood from the Asian country.
The US Mission to the United Nations said that US Ambassador Nikki Haley and her counterparts from Japan, France, the United Kingdom and South Korea asked for an emergency meeting of the UNSC regarding the test. The UNSC will discuss the situation on Monday at 10:00 a.m. local time (14:00 GMT).
Trade And War
Trump said in response to the news about the latest test that North Korea's words and actions regarding the United States remained "hostile and dangerous." The US President also noted that the "talk of appeasement" would not work.
South Korea is finding, as I have told them, that their talk of appeasement with North Korea will not work, they only understand one thing!

— Donald J. Trump (@realDonaldTrump) September 3, 2017
US Treasury Secretary Steve Mnuchin told Fox News broadcaster that he was working on a new package of sanctions, completely cutting off North Korea economically. Trump said on Twitter that the United States was mulling a possible halt to trade "with any country doing business with North Korea."
The United States is considering, in addition to other options, stopping all trade with any country doing business with North Korea.

— Donald J. Trump (@realDonaldTrump) September 3, 2017
Later on Sunday, Defense Secretary James Mattis told reporters that any threats to the United States or its allies would be met with a massive, "effective and overwhelming" military response. Mattis also said that Trump had been briefed on various military options available to the United States.