MOSCOW (Sputnik) — Kremlin spokesman Dmitry Peskov on Monday called on the states neighboring North Korea, as well as other parties involved to be wiser and pursue a balanced approach to the Korea crisis.
"In this context, it is easy for the extra-regional countries to use the world 'war,' but those countries in the same region with North Korea and in the same region with the Korean Peninsula, have to be much wiser and balanced in their approaches to this very serious problem witch causes our common concern," Peskov told reporters, commenting on Haley's controversial remarks.
Peskov pointed out that a statement on the North Korean issue by Russia's Permanent Representative to the United Nations Vasily Nebenzya was much more constructive. The Russian diplomat strongly condemned Pyongyang's nuclear test, however, emphasized that no military solution to the North Korean crisis is acceptable.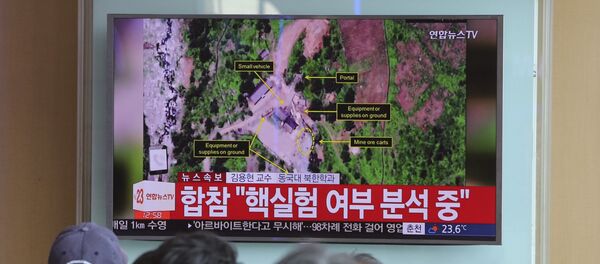 4 September 2017, 15:52 GMT
"Nebenzya noted that in the current situation, we are calling on everyone to be calm because the settlement of the Korean issue is only possible through the diplomatic and political means," the Kremlin spokesman said.
Earlier in the day, Haley said that North Korea's leader Kim Jong Un was "begging for war" by continuing defiance of UN resolutions on the country's nuclear and missile programs. Haley also slammed the so-called "double freeze plan" for resolving the nuclear and missile crisis on the Korean Peninsula, advocated by China and Russia, calling it "insulting".
As tensions on the Korean Peninsula have further escalated this summer, Russia and China proposed the "double freeze" plan to settle the situation on the Korean Peninsula, urging North Korea to stop nuclear tests, while calling on the US and South Korea to refrain from joint drills. The US has already rejected the peace plan.
Following the North Korean nuclear test on Sunday, Russian President Vladimir Putin and Chinese leader Xi Jinping agreed to "react in a relevant manner" to the move.