LUHANSK (Sputnik) – Any discussions on possible deployment of UN peacekeepers to the eastern Ukrainian region of Donbass will be possible in case Kiev implements the Minsk agreements, head of the self-proclaimed Luhansk People's Republic (LPR) Igor Plotnitsky said on Tuesday.
"It will be possible to return to the consideration of issues related to deployment of UN peacekeepers to Donbas only on conditions of ceasefire and withdrawal of Ukrainian troops and weapons from the contact line," Plotnitsky said.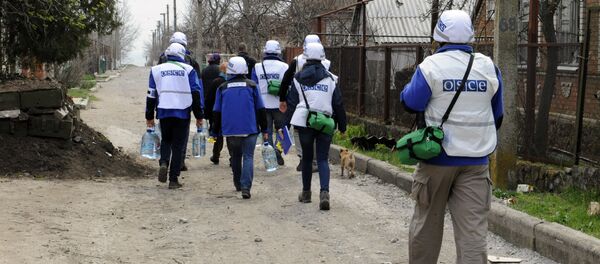 He pointed out that LPR was striving for the peace settlement of the conflict in line with the Minsk accords.
"However, the practice shows that Ukraine fails to fulfill its commitments, we have faced that many times. It was a Ukrainian fault that the withdrawal of troops from the contact line was disrupted over 70 times. Only during the 'school ceasefire' Ukraine has repeatedly violated the ceasefire regime," the LPR leader said.
Earlier in the day, Russian President Vladimir Putin expressed his support to the idea of sending peacekeepers to Ukraine. However, Putin added the UN mission should only ensure the security of the Organization for Security and Co-operation (OSCE) staff, and the peacekeepers must be placed on the contact line.