BERLIN (Sputnik) — Iran will likely to continue to comply with the Joint Comprehensive Plan of Action (JCPOA) in case of the United States' withdrawal from the deal, the country's Vice President Ali Akbar Salehi told the Spiegel newspaper in an interview.
"If the United States pulls out of the agreement, but the rest of the countries stay committed — namely Britain, France, Germany, China, Russia — then Iran would most probably stick with the commitments to the agreement without the US But if the US leaves the treaty and Europe follows, then this deal will certainly collapse and Iran will go back to what it was before," Salehi, who is also Iran's nuclear energy chief, said, as quoted by the newspaper.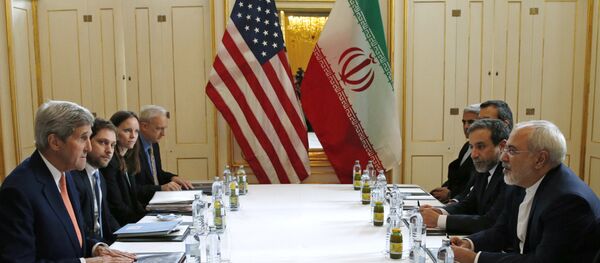 8 September 2017, 18:08 GMT
Salehi noted that Washington was currently trying to discourage businesses from cooperating with Iran and that difficulties would appear if this rhetoric turned into real steps.
"If the US turns those words into real action, we will then have to face a very different situation… If the US is refusing to waive the sanctions connected to the nuclear activities of Iran, it would be significant noncompliance on their side," Salehi said.
In July 2015, Iran, the European Union and the so-called P5+1 group of nations, comprised of the United States, Russia, France, Germany, the United Kingdom and China, signed the JCPOA, which implies the lifting of nuclear-related sanctions on Iran in exchange for assurances that Tehran's nuclear program would remain peaceful. However, the United States introduced new sanctions on Iran over its ballistic missile program this year, prompting Tehran's criticism.