WASHINGTON (Sputnik) — The US government has decided to extend sanctions relief for Iran under the Joint Comprehensive Plan of Action (JPCOA), State Department spokesperson Heather Nauert said in a briefing on Thursday.
"The administration did approve waivers in order to maintain some flexibility," Nauert told reporters.
However, the question whether to preserve the nuclear deal itself is still open. "Waving some of those sanctions should not be seen as an indication of President Trump or his administration's position on the JCPOA nor is the waver giving the Iranian regime a pass on its broad range malign behavior. Again, no decisions have been made on the final JCPOA. We still have some time for that," Nauert said.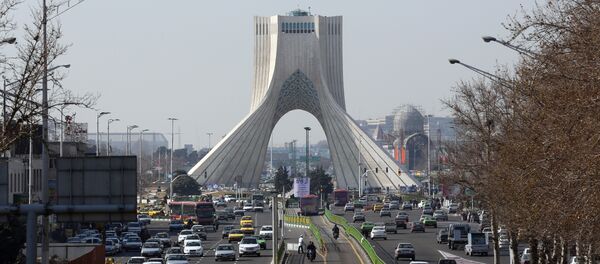 14 September 2017, 14:33 GMT
US State Secretary Rex Tillerson stated earlier today that Trump's administration is currently developing a policy towards Iran considering a tougher strategy, since the country is not meeting expectations of the JCPOA.
Tillerson stressed that danger posed by Iran must be viewed not only from the point of nuclear threats
but also its cyber activity and ballistic missile program must be taken into account.
On Thursday the US Office of Foreign Assets Control (OFAC) imposed new non-nuclear sanctions against 7 Iranian individuals for allegedly participating in cyberattacks against the US and two entities related to the country's missile program.
President Donald Trump questiones Iran's compliance with the Joint Comprehensive Plan of Action (JCPOA). During his presidential campaign Trump threatened to end the agreement calling it the worst deal ever negotiated. However, International Atomic Energy Agency experts say that Iran fully abides by obligations under the nuclear deal. If Trump abandons the deal without clear evidence of Iran noncompliance with the agreement it may trigger the revival of Iran's nuclear activity which in turn could lead to escalating tensions in the Middle East.
On July 14, 2015, China, France, Russia, the United Kingdom, the United States and Germany, collectively referred to as the P5+1 group, signed the JCPOA with Iran on the latter's nuclear program. The deal presupposes a gradual lifting of anti-Iran sanctions as long as Iran takes steps to dismantle its nuclear program. The US government has to waive sanctions for periods up to 120 days if Iran proves its compliance. Trump's administration has renewed the waivers for the first time on May 17.