Last month, ten US soldiers were killed after the Navy's USS John S. McCain crashed into Liberian-flagged chemical tanker Alnic MC tanker east of Singapore. And in June, the USS Fitzgerald collided with a Philippine cargo ship off the coast of Japan, killing 7 soldiers. The increase in incidents have prompted naval investigators to look into whether the accidents were the result of cyber hacking.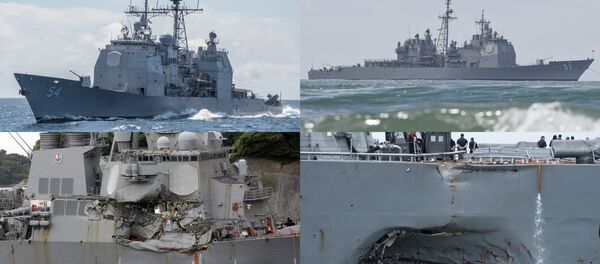 8 September 2017, 23:34 GMT
"We have no indications or reason to believe that there was a malicious cyber attack that had an effect on either USS Fitzgerald or McCain, but we've assembled a team… to go out on the ground and look for and assess any anomalous activity that may exist onboard John S. McCain," Jan Tighe, the navy's deputy chief of naval operations for information warfare, said at an event hosted by the Center for Strategic and International Studies in Washington, DC.
"We will look for a couple of things. One, try to confirm cyber [attack] did not have anything to do with the collision and then how do we move forward in making sure these are a normal part of these investigations," Tighe added, according to USNI News.
"It is something that we think about a lot and we have to have both the authorities and the human capital ready to respond," she added.
According to Vice Chief of Naval Operations, Bill Moran, "Just about every three-letter agency in Washington, DC has looked to see if there were indications of an intent or a potential acknowledgement of a cyber attack."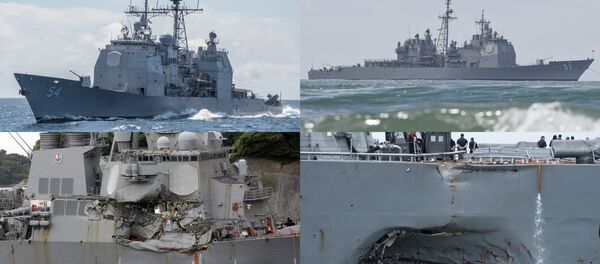 8 September 2017, 23:34 GMT
"I have personally not seen any evidence of that. But we're not stopping there. The team is in place in Singapore today, has been for several days capturing all of the computer and network information to see if they can find any abnormalities or disruptions," he added.
In addition, this past month, President trump elevated Cyber Command to a unified combatant command status at the recommendation of the Secretary of Defense.
According to the Department of Defense's press release, "The elevation will mark a significant evolution in the way the department organizes to execute cyber space missions," adding that the elevation "reflects the growing centrality of cyberspace to US national security."
The statement goes on to read, "Raising the organizational status of U.S. Cyber Command is intended to demonstrate visibly the Department of Defense's long-term commitment to cyberspace as a warfighting domain. It also signals the department's resolve to embrace the changing nature of warfare — thus helping to reassure partners and deter adversaries."