New Delhi (Sputnik) — India's armed border force, Sashastra Seema Bal (SSB), has operationalized its new intelligence unit to track the activities of China and Pakistan along its visa-free stretches of Nepal and Bhutan. The combat-ready intelligence wing has 650 trained field agents and other staff members who will gather actionable information.
Due to centuries-old cultural and economic linkages among peoples across the border, the Indian government has been in agreement with Nepal and Bhutan to allow visa-free trans-border movement of people across the frontier areas that mainly comprise densely populated foothills and plains as well as thick jungles, underdeveloped regions and inhospitable terrains, making it easy for criminals and rogue entities to move freely in the areas.
"There is trans-border movement of criminals and anti-national elements which pose a major challenge on the border in the context of the visa-free regime," a senior official of the SSB said.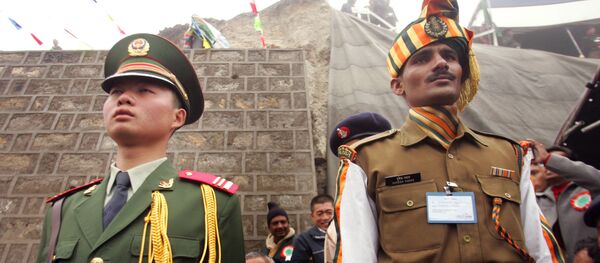 16 August 2017, 14:27 GMT
The new combat intelligence service based on the principle of "recruit locally, train locally and deploy locally, will have a larger objective than its predecessor- Special Services Bureau, and it is likely to have agents deployed in Nepal and Bhutan.
Indian security agencies had been repeatedly warning the government of increased presence of Pakistani intelligence wing activities, insurgent groups, fundamentalists, arms smugglers and human traffickers at India's border with Bhutan and Nepal. Meanwhile, National Security Advisor Ajit Doval had also strongly advocated the revival of a dedicated armed intelligence unit for border areas, five decades after the Special Services Bureau was dismantled. He claimed to have sensed numerous anti-India forces with the help of inimical groups were trying to foment trouble on the Indian side.
SSB has also been expeditiously modernizing its combat capability as well. This year SSB have procured additional UAVs of indigenously built Netra II version and are in the process of acquiring two laser-based explosive cum narcotic detectors very soon. The force has also acquired seven mine protected vehicles, 15 light-armed troop carriers and 12 bullet-proof vehicles to our fleet. Meanwhile, it plans to soon purchase, 114 smart plus equipment, 92 radio set LHP-265D, and two Ku-Band VSAT for two-way communications in war zones. The SSB has 474 Border Outposts (BOPs) on the Nepal border and 131 on the Bhutan border.