MOSCOW (Sputnik) — Bomb experts from the Russian Armed Forces' International Mine Action Center have cleared mines from 5,295 hectares (13,000 acres) of land in Syria, the Russian Defense Ministry said Friday.
"Experts from the Mine Action Center in Syria have demined a total of 5,295 hectares, including 2,956 hectares in Aleppo and 2,339 hectares in Palmyra," the report, posted on the website of the Krasnaya Zvezda (Red Star) newspaper, the official publication of the Defense Ministry, said.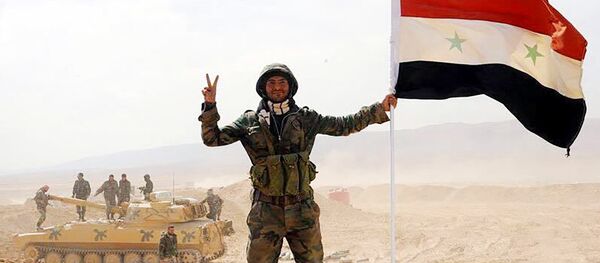 7 September 2017, 10:29 GMT
According to the infographics data, Russian bomb squads have defused 60,384 explosive devices. They have also assisted in the training of 586 Syrian experts, with further 102 still in training.
Russia is continuously taking demining efforts in the war-torn country. Earlier, experts from the International Mine Action Center of the Russian Armed Forces have been sent to Syria's Deir ez-Zor, after Syrian army supported by the Russian Aerospace Forces made a major advance in the city, breaking Daesh terrorist group's siege.