This means that most British people support the discriminatory practice by law enforcement individuals to specifically profile individuals based on their race, ethnicity, religion or national origin.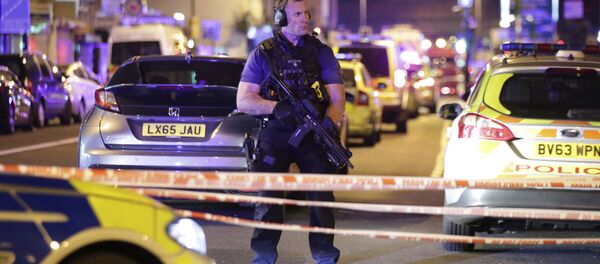 More than half — 55 percent of participants — agree with racial profiling of Arabs and Muslims. Across the political spectrum, 72 percent of Conservatives reported supporting profiling, while 42 percent of Labor party voters approved of it. Only 24 percent of those surveyed said they were against racial profiling.
In addition, 64 percent of respondents believe that Arabs have not integrated in Britain, while 28 percent think that the refugee migration to the UK has been beneficial for the country.
The majority of voters, however, believe that the number of refugees coming in from war-ravaged Syria and Iraq is too high.
The survey, which questioned 1,200 people, also shows that the traits most British people closely associate with the Arab world include gender segregation, wealth, Islam, a rich history and extremism.
The poll also revealed that only 15 percent of participants agree with the UK's foreign policy in the Middle East, while 85 percent believe that the American invasion of Iraq in 2003 was a mistake but that the UK should continue its involvement in the air campaign against Daesh.
The vast majority claimed to know little or nothing about the Middle East, raising concerns about ignorance.
"It is alarming that 81 percent of the British public appear to know little or nothing about the Arab world given it's of such strategic importance to Britain politically and culturally," Faisal J. Abbas, editor in chief of Arab News, said.
"On the other [hand], [the poll] showed that Brits have some very strong opinions about key regional issues. More than half believe the UK should recognize Palestine as a state and the majority point to the rising problem of Islamophobia in the UK." 
"What is concerning is that these opinions are based on very limited knowledge about the region. The Arab world is home to some of the poorest countries in the world, yet nearly a third of Brits associate it with being wealthy, far more than those who associate it with poverty. One may ask what impact such perceptions might have on aid decisions made by western governments."
Chris Doyle, director of the Council for the Advancement of Arab-British Understanding, believes that more work needs to be done to bridge the gap between the British government and the Arab world.
"Ignorance will feed fanaticism and the likes of [Daesh] and al-Qaeda on one side and the far right on the other," he said.