The Daesh terrorist group (banned in Russia) claimed responsibility for the deadly Las Vegas shooting that claimed more than 50 lives, media reported on Monday.
The shooter, who was identified as 64-year-old Stephen Paddock, converted to Islam months ago, according to Reuters.
Stephen Paddock showed no warning signs before carrying out the deadliest shooting in US history on Sunday night in Las Vegas, Nevada, and his motives remain unclear, the shooter's brother Eric Paddock said on Monday.
"There is no reason we can imagine why Stephen would do something like this," Paddock told the Las Vegas Review-Journal. "All we can do is send our condolences to the people who died. Just no reason, no warning."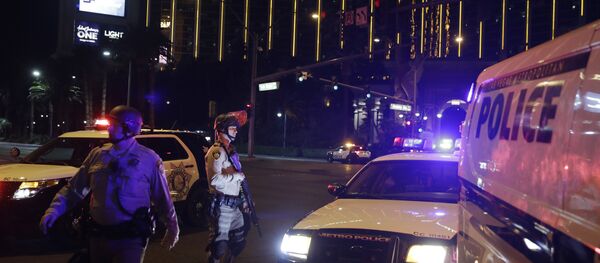 2 October 2017, 13:30 GMT
Paddock was said to have
opened fire on a crowd
of more than 22,000 concert-goers from his hotel room on the 32nd floor of the Mandalay Bay Hotel on Sunday evening.
Currently, the United States' officials are investigating the claim of alleged Daesh responsibility for the attack, but so far it can not be confirmed.
The death toll of the mass shooting in Las Vegas stands at over 50, while more than 500 people were injured, Sheriff of the Las Vegas Metropolitan Police Department Joseph Lombardo said Monday.
The Las Vegas police confirmed earlier on Monday that the suspect who'd been apprehended was "down." The police continued to urge people to avoid the area; part of the highway was closed off.