The McCain, an Arleigh Burke-class destroyer, is headed toward Yokosuka, Japan, for repairs needed after its August 21 collision with an oil tanker east of the Straits of Malacca and Singapore, which killed 10 sailors. But it won't be making the trip under its own power.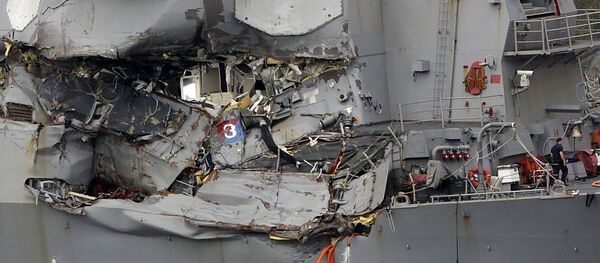 16 August 2017, 00:35 GMT
"Over the next few days, John S. McCain will be towed to deep water, where the heavy lift vessel will secure itself, secure the shop on a platform and raise back up out of the water," a Thursday US Navy statement reports. "After the process of loading the ship is complete, [heavy lift transport vessel] MV Treasure will transport John S. McCain to Fleet Activities Yokosuka, where the forward deployed ship will be repaired."
The McCain was prepared for its journey while in Singapore, where crew members, technicians and divers conducted damage assessments, reset key systems and patched up the ship to make it watertight.
According to a Navy cost estimate provided to USNI news, the repairs, which are predicted to take about a year, will cost $223 million.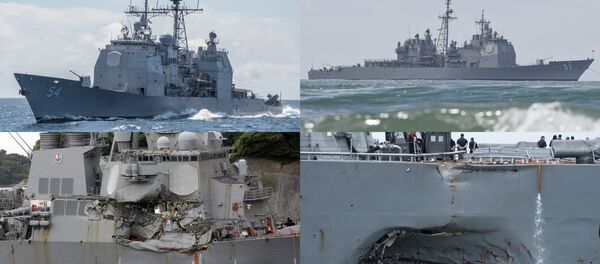 8 September 2017, 23:34 GMT
The US Navy is also planning on sending the USS Fitzgerald, also an an Arleigh Burke-class destroyer, to Ingalls Shipbuilding in Pascagoula, Mississippi for repairs. The destroyer was wrecked in a different collision on June 17 with a merchant vessel off the coast of Japan. Seven sailors were killed in that accident.
Although the USS McCain collision was deadlier, the USS Fitzgerald suffered more damage.
"Damage is less significant, impacted fewer systems compared with [Fitzgerald]," 7th Fleet spokesman Commander Clay Doss said, military.com reported. "For example, there was no significant damage to the superstructure, which is more likely to require US-based shipyard repairs."