MOSCOW (Sputnik) – The United States exerts more pressure on the broadcaster RT than any other country, RT Editor-in-Chief Margarita Simonyan said Thursday at an extended meeting of the working group responsible for monitoring external activities aimed at interference into Russia's domestic affairs.
"To date, we have not experienced such active pressure and literally an expulsion from the country, as we do in the United States," Simonyan said.
According to Simonyan, the company must register as a foreign agent before October 17, which will lead to difficulties in the broadcaster's work. Simonyan said that after registration, the company may be required to publish the personal data of its employees, report on those whom they interview, as well as keep a huge bar reading "foreign agent" on all the broadcasts, shows and the website.
"At the same time, legislators introduced a bill that could allow our US distributors to stop broadcasting us in the United States, bypassing reached agreements," the RT head said.
The RT broadcaster is operating in the United States as an ordinary media without using bots or spreading fake news, RT Editor-in-Chief Margarita Simonyan said on Thursday, denying allegations of meddling in the 2016 US presidential election.
"Yesterday, [the investigators into alleged Russian meddling] called our activities, the things that they consider as Russian meddling in the election, a crime of the century. Everything leads to our ordinary activities being recognized as a crime. I assure you… that we have never done anything but ordinary media work in the United States. We have not had any bots, any trolls, nothing like what they are writing about, no fake news — nothing like that. We are an ordinary media, which has worked as an ordinary media. Our only 'sin' is that we had not supported Hillary Clinton. But we have not either supported [Donald] Trump," Simonyan said at an extended meeting of the working group responsible for monitoring of external activities aimed at interference into Russia's domestic affairs.
In September, the US Department of Justice asked a RT contractor in the United States to register under the Foreign Agents Registration Act (FARA), while in June US congressmen introduced the Foreign Agents Registration Modernization and Enforcement Act, a bill which would broaden the scope of FARA to include RT, by expanding DoJ authority to investigate attempts to "unlawfully influence the political process."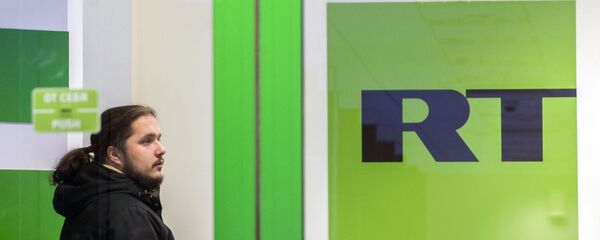 1 October 2017, 13:45 GMT
Simonyan called the demands of the US authorities regarding the broadcaster illegal. On Sunday, she said that RT might cease its activities in the United States due to increasing pressure from the country's authorities. At the same time, Russian Foreign Ministry spokeswoman
Maria Zakharova
said that Russia could respond, if the United States continues to exert pressure on Russian media working in the United States.
Last week, media reported that the US Senate Intelligence Committee asked senior managers from Facebook, Google and Twitter to testify in front of the US Congress at a public hearing scheduled for October as part of the probe into Russia's alleged attempts to use social media to influence the elections.

28 September 2017, 17:32 GMT
On Tuesday, Bloomberg reported that Google, which owns YouTube, has dropped RT from its package of popular channels aimed at advertisers.
Russia has faced multiple accusations from officials and the media in the US of alleged interference in the US presidential election, although the claims have not been substantiated. Top Russian officials have repeatedly denied these allegations and stressed that Russia avoids interfering in other states' domestic affairs.
RT and Sputnik News Agency have come under intense scrutiny in the United States, with US lawmakers questioning whether RT should have been registered under FARA and, most recently, asking the Federal Communications Commission (FCC) to look into Sputnik Radio.