KIEV (Sputnik) – The Security Service of Ukraine has expelled Russian NTV correspondent Vyacheslav Nemyshev from the country and forbid him from returning for three years, the press service of the security forces said Thursday.
"The Security Service of Ukraine has decided to mandate the return to Russia of Vyacheslav Nemyshev, an agitator of the Russian broadcaster NTV… The agitator is barred from entering Ukraine for three years," the press service statement said.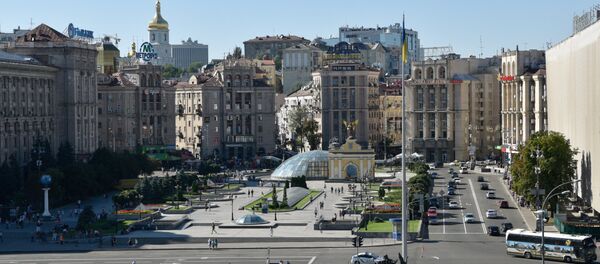 4 October 2017, 18:36 GMT
The NTV correspondent was detained in central Kiev while he was recording a story.
Earlier on Thursday, Russia's Civic Chamber member Elena Sutormina said that she had contacted Harlem Desir, the representative of the Organization for Security and Co-operation in Europe (OSCE) for media freedom, with a request to provide an immediate response to the detention of the reporter. The Russian official insisted that Kiev continued its efforts to oppress the freedom of speech "in a more devious and insolent way."
Kiev has repeatedly limited the activities of foreign and even some local opposition media outlets in Ukraine. As an example, Kiev, in March 2015 issued a list of 115 Russian media outlets which could be denied or temporarily suspended accreditation by Ukrainian authorities as the outlets "posed threats" to Ukrainian state security. When the regulation came into force, a number of Russian journalists and television reporters were denied entry to Ukraine or deported to Russia.
In early August, the Russian Foreign Ministry called on the OSCE and the Council of Europe member states, as well as international organizations, to condemn Kiev's policy against the media. There are already dozens of cases of harassment of journalists in Ukraine.