MOSCOW (Sputnik) — Moscow regrets that Greece has decided to extradite Russian citizen Alexander Vinnik to the United States and considers that the verdict is unjust, and violates international law, the Russian Foreign Ministry said in a statement Friday.
"Moscow perceived with regret the decision by the council of the appeals court of the city of Thessaloniki (Greece) to grant the US request on the extradition of Alexander Vinnik to the United States. We believe that this verdict is unjust and violates the basic provisions of international law," the ministry said.
It said the Greek authorities had been handed a request by the Russian Prosecutor General's Office to extradite Vinnik to Russia.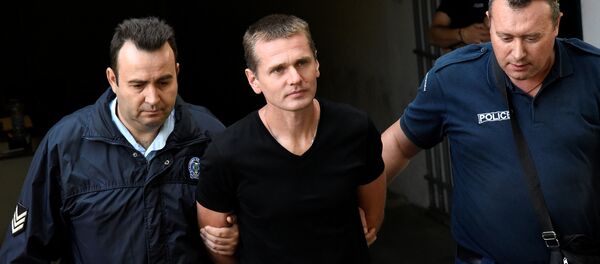 4 October 2017, 14:04 GMT
"In line with generally accepted legal norms, the Russian request has priority, because Vinnik is a citizen of the Russian Federation. Such a verdict is all the more surprising in the context of the friendly atmosphere of relations between Russia and Greece," the ministry said, adding that Russia hoped Greece would take into account the Russian extradition request.
A Greek court in Thessaloniki will consider on October 11 a Russian request to extradite Russian national Alexander Vinnik, arrested in Greece on a US request, his lawyer told Sputnik.
"The [court] will consider on Wednesday Russia's request to extradite Vinnik. We expect that the court will take a positive decision as Alexander does not mind being extradited to Russia. However, it will be impossible to extradite Vinnik to Russia because a simultaneous judicial procedure on US request is underway," Ilias Spirliadis said.
The same court ruled earlier this week to satisfy the US request for the extradition of Vinnik on charges of money laundering.