WASHINGTON (Sputnik) — US President Donald Trump puzzled the White House media pool on Thursday evening, referring to the time he took to pose for a photo with the country's military leaders as the calm before the storm.
"You guys know what this represents?" he suddenly asked journalists during the photo opportunity at the White House. "Maybe it's the calm before the storm."
Trump did not elaborate on what the storm could be and smiled when he was asked if he meant Iran, saying "You will find out."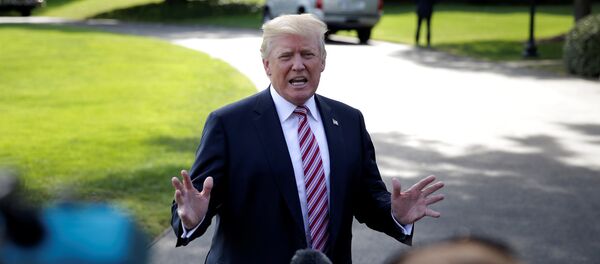 5 October 2017, 20:59 GMT
Before the dinner, the US leader discussed Iran and North Korea with Pentagon and other officials. He again accused Tehran of failing to "live up to the spirit" of the 2015 nuclear deal after local publications claimed mid-October was the deadline for the US withdrawal from the pact.
Anonymous White House sources told the Washington Post earlier that Trump is most likely going to declare Iran noncompliant, citing US national interest.
The Joint Comprehensive Plan of Action commonly referred to as Iran Nuclear Deal was signed in July 2015 by Iran and the P5+1 group of nations comprised of the United States, Russia, China, France and the United Kingdom plus Germany after years of diplomatic work.
Donald Trump called the JCPOA, negotiated under President Barack Obama's watch "an embarrassment" to the United States during his speech to the UN General Assembly.