Speaking to Forbes, Trump repeated his dismissal of an NBC story from last week claiming a furious Tillerson had called his boss a "moron" as "fake news."
However, if Tillerson actually had called him a "moron," Trump said the two would "have to compare IQ tests."
Sorry losers and haters, but my I.Q. is one of the highest —and you all know it! Please don't feel so stupid or insecure,it's not your fault

— Donald J. Trump (@realDonaldTrump) May 9, 2013
"And I can tell you who is going to win," the president of the United States added.
The pure bizarreness of the POTUS challenging one of his top deputies to an IQ test was not lost on the press. Reporters asked White House Press Secretary Sarah Huckabee Sanders about the comment, which she brushed off as a joke. When the comment came up later in the daily briefing, Sanders went off. "Again, he wasn't questioning the secretary of state's intelligence. He made a joke," she said. "Maybe you guys should get a sense of humor and try it sometime, but he simply made a joke."
In a separate comment before reporters on Saturday, Trump said that he and Tillerson "have a very good relationship. We disagree on a couple of things, sometimes I'd like him to be a little bit tougher. But other than that we have a very good relationship."
The issue of "toughness" seems to center around a key disagreement between Trump and Tillerson over how to handle the ongoing missile crisis in the Korean Peninsula. In the Forbes interview, Trump said that Tillerson "was wasting his time" in his attempts to negotiate with North Korean leadership regarding their continued missile and nuclear program development.
This echoes previous statements from Trump, who tweeted "I told Rex Tillerson, our wonderful Secretary of State, that he is wasting his time trying to negotiate with Little Rocket Man. Save your energy Rex, we'll do what has to be done!" on October 1.
NBC News reported that in July, an enraged Tillerson called Trump a "moron" over his aggressive approach to North Korea. He also threatened to resign and had to be talked out of it by Vice President Mike Pence, NBC reported.
Forbes asked Trump if he thought his comments undermined the authority of Tillerson, who nominally should be the president's top diplomat and second-closest lieutenant after the VIce President. "I'm not undermining," Trump replied. "I think I'm actually strengthening authority."
On Tuesday, Trump elaborated further: "No, I didn't undercut anybody," he said when asked again by reporters if he was undermining Tillerson's credibility. "I don't believe in undercutting people."
But cracks keep forming in Team Trump's narrative that there is no tension between the president and his secretary of state. The rift first showed during the summer, when Tillerson distanced himself from Trump's comment that there were "fine people" among the participants in the deadly Charlottesville white supremacist rally. "The president speaks for himself," Tillerson said then.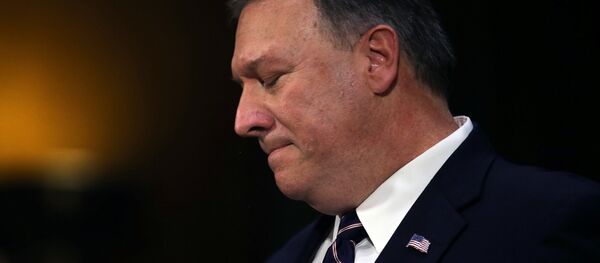 6 October 2017, 22:06 GMT
While Tillerson denied ever considering leaving his post earlier in October, he also refused to deny that he called Trump a "moron." Tillerson called the accusation "petty nonsense," but let his spokeswoman Heather Nauert do the explicit denying.
Trump and Tillerson are expected to meet in person for lunch alongside Defense Secretary James Mattis. The trio are expected to discuss North Korea, the embattled Iranian nuclear deal (that Tillerson and Mattis openly support and Trump frequently criticizes), and the fight against Daesh.
"The White House thinking is unequivocal that he's going to be gone soon, but the assumption is that he's going to quit on his own so Trump can say, 'Thank you for your year of service,'" the Post reported that a White House senior official told them.
In a Tuesday afternoon statement, State Department spokeswoman Heather Nauert said that Tillerson's IQ was nothing to underestimate. "It's high," she said. "Anybody that can put things together, an engineer, it's high."