Axios reports that "sources" and "insiders" within the White House have told them Trump is seriously considering CIA Director Mike Pompeo to take Tillerson's place. The two men reportedly meet almost every day for an intelligence brief and "Trump doesn't see Pompeo as a showboat" according to Axios.
NBC reported that on Thursday, Tillerson and Defense Secretary James Mattis were summoned to the White House by Trump to "discuss a path forward." Trump was not present for the meeting, as he was speaking with law enforcement and survivors of the Las Vegas massacre; the meeting was chaired instead by White House Chief of Staff John Kelly.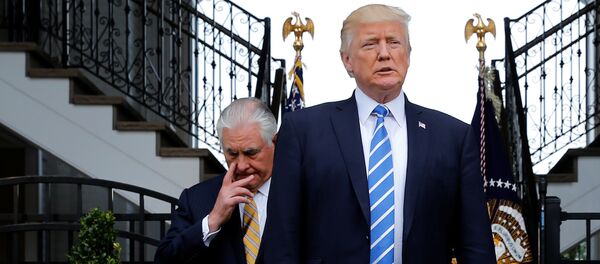 4 October 2017, 19:12 GMT
Trump was reportedly "furious" about the NBC News report claiming Tillerson had called him a "moron" in a July 20 national security meeting and that Tillerson had threatened to leave his post several times over the summer. The new report added that Vice President Mike Pence, who NBC said had played peacemaker and convinced Tillerson to not quit, was equally furious.
All involved parties have denied that Tillerson ever intended to quit. Trump called the story "fake news" and demanded NBC "issue an apology to America" in Wednesday tweets. Pence's Deputy Chief of Staff Jarrod Agen stated on Wednesday that "at no time did [Pence] and [Tillerson] ever discuss the prospect of the secretary's resignation from the administration. Any reporting to the contrary is categorically false."
"My commitment to the success of our president and our country is as strong as it was the day I accepted his offer to serve as secretary of state," Tillerson said in a Wednesday press conference. "The vice president has never had to persuade me to stay secretary of state because I have never considered leaving this post."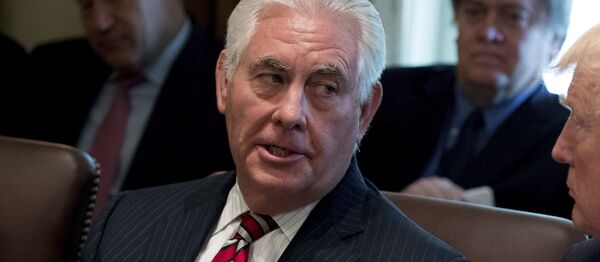 4 October 2017, 15:56 GMT
Tillerson notably did not deny that he called Trump a moron. When directly asked if he had, he replied, "I'm not going to deal with petty stuff like that… the places I come from, we don't deal with that petty nonsense."
State Department spokeswoman Heather Nauert explicitly denied that Tillerson had made the "moron" comment, and that Tillerson did not apologize to the president because no apology was needed. White House Press Secretary Sarah Huckabee Sanders said on Thursday that it is "beneath the secretary of state" to confirm or refute such a charge.
"Insiders say Trump's relationship with Tillerson is broken beyond repair. We're told Trump was furious that Tillerson didn't try to blunt the story about him calling the president a 'moron,' by just going out and denying it (whether or not it actually occurred)," Axios reports.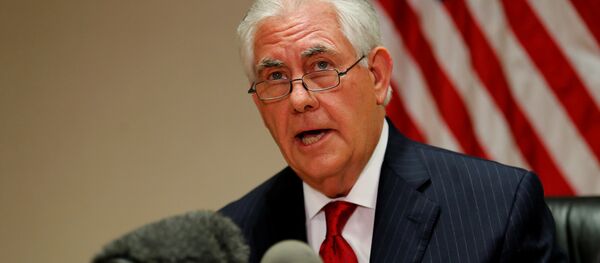 5 October 2017, 12:42 GMT
RC Hammond, spokesman for the State Department, also denied the discussion of Tillerson quitting and that Tillerson called Trump a "moron" on Wednesday. However, he did mention that Pence and Tillerson had at one point discussed the service of US Ambassador to the United Nations Nikki Haley, and whether she was an asset or a detriment to the administration.
Agen denied that that conversation happened, too. "The vice president has known Ambassador Nikki Haley for many years, holds her in the highest regard, and appreciates her strong service to this administration at the United Nations," he said in the same statement. On Thursday Hammond apologized and withdrew the remark.