After to a Navy statement released Tuesday, Commander Alfredo J. Sanchez, the ship's captain, and Commander Jessie L. Sanchez, the ship's executive officer, were relieved of their duties by Vice Admiral Phil Sawyer on Wednesday "due to a loss of confidence."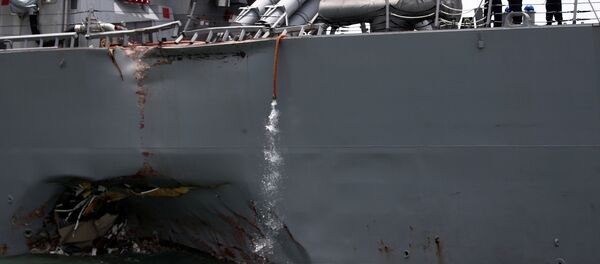 5 October 2017, 20:12 GMT
"While the investigation is ongoing, it is evident the collision was preventable, the commanding officer exercised poor judgement and the executive officer exercised poor leadership of the ship's training program," the statement reads.
Alfredo Sanchez was reassigned to Commander, Naval Forces Japan (CNFG), while Jessie Sanchez was reassigned to Ship Repair Facility (SRF) Yokosuka.
In addition, Commander Ed Angelinas, who was the commanding officer of the USS McCampbell, assumed the role of commanding officer of the USS John S. McCain, while Lieutenant Commander Ray Ball, former chief engineer of the USS Antietam, will assume duties as acting executive officer.
According to Navy officials, the destroyer may have suffered loss of steering control, which sailors are trained to handle. However, it is yet unclear what caused the collision with the merchant vessel. The McCain collision occurred shortly after the USS Fitzgerald collided with a Philippine cargo ship off the coast of Japan in June, killing seven soldiers and prompting Admiral John Richardson, chief of naval operations, to order a comprehensive review of Navy ship operations.
The results of the Navy-wide review are expected in a few weeks.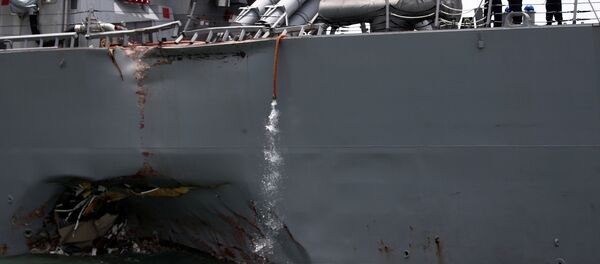 18 September 2017, 19:00 GMT
In September, Task Force 70 Commander Rear Admiral Charles Williams and Destroyer Squadron 15 Commander Captain Jeffrey Bennett were relieved by the Navy "due to a loss of confidence in their ability to command."
Williams, who was both the commander of Task Force 70 and Carrier Strike Group Five, had tactical control of the Seventh Fleet's cruisers and destroyers, Carrier Air Wing Five and aircraft carrier USS Ronald Reagan. Bennett was the commander in charge of all destroyers assigned to the Seventh Fleet.
In late August, Vice Admiral Joseph P. Aucoin was also relieved of his duties as the head of the Navy's Seventh Fleet due to the two collisions.