The Russian Defense Ministry has accused the US-led coalition of "carpet bombings" of residential areas of Raqqa.
"The US and coalition bombings of residential neighborhoods and the deliberate destruction of all natural sources of water supply in Raqqa have so far resulted in nothing but many thousands of victims of the population which is being 'liberated'," spokesman Maj. Gen. Igor Konashenkov said.
The Russian military also accused the coalition of "incompetent planning" of the military operation to free Raqqa.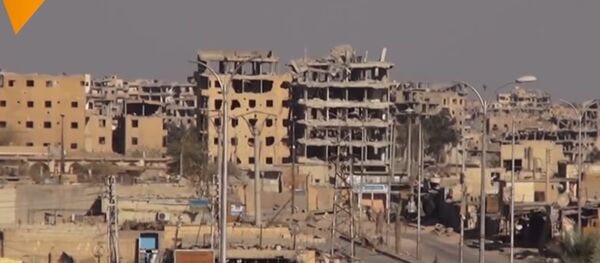 3 October 2017, 06:00 GMT
Konashenkov noted that such actions show that the leadership of the international coalition led by the US is "in a deadlock" in contrast with the successful offensive of the Syrian government troops in al-Mayadeen.
According to a source in the Syrian Democratic Forces that are conducting the Raqqa operation on the ground with the coalition's support, the city is set to be liberated from militants within 2-3 days.
Moscow has repeatedly voiced concern over the course of the Raqqa operation with the Russian Foreign Ministry saying that numerous "mistakes" by the coalition's aviation, as well as the lack of humanitarian aid led to a humanitarian catastrophe the city.
Al-Mayadeen Liberated
The Russian Defense Ministry has announced that the Syrian government forces had completed the operation aimed at the elimination of Daesh terrorists in al-Mayadeen.
"The Syrian government troops have completed the operation to destroy Daesh militants in the town of al-Mayadeen. Assault units of the Syrian army broke the fierce resistance of terrorists in the central and southern districts and completely liberated the city," Maj. Gen. Igor Konashenkov said.
The Syrian army supported by the Russian Aerospace Forces continues its offensive after gaining control of al-Mayadeen, the Russian military said.
Al-Mayadeen is a large populated area, which remained under Daesh's control on the Euphrates River valley and was one of the most powerful fortified area of terrorists in eastern Syria, Konashenkov said.
14 October 2017, 10:57 GMT
"Over the past week, the most efficient reserve forces of Daesh from Iraq have been moved there [to the area].
Therefore, the defeat of terrorists in Mayadeen created necessary conditions for the development of the Syrian troops'
tactical success

."
The statement comes after the Syrian state media reported earlier in the day that al-Mayadeen had been liberated by the Syrian army.
The victory comes 8 days after the Syrian army entered al-Mayadeen (located 45 kilometers east of the city of Deir ez-Zor). During the first days of the military operation, the government troops reportedly destroyed several Daesh weapons depots and a communication hub.
The al-Mayadeen offensive of the Syrian army in the province comes over a month after the three-year blockade of the city was lifted by government troops with support from the Russian Aerospace Forces on September 5. The operation to clear the city from remaining terrorists is currently underway.