ST. PETERSBURG (Sputnik) — The Joint Comprehensive Plan of Action (JCPOA) on Iran's nuclear program cannot be repealed by the decision of one side, Speaker of the Russian parliament's upper house Valentina Matvienko said Saturday.
"First of all, it is an international act, a document, which was adopted in the form of a [UN] Security Council resolution. It is not a bilateral agreement between Iran and the United States, so it cannot be repealed unilaterally," Matvienko told reporters.
"I still hope that there won't be any specific decision on the withdrawal from the deal," Matvienko said, noting that such steps threaten the non-proliferation regime and raise concerns.
The lawmaker added that there were no reasons to cast doubt on Iran's compliance with the deal since the last inspection made by International Atomic Energy Agency (IAEA) confirmed that Iran had been implementing all provisions in line with the JCPOA.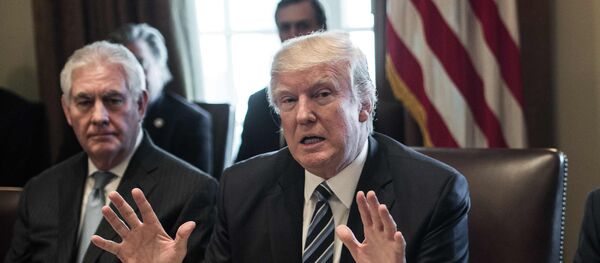 14 October 2017, 08:50 GMT
In a 
speech
 on Friday, 
US President Donald Trump
 said his administration had decided not to certify Iran's compliance with the nuclear agreement, also known as JCPOA, but had not challenged Iran's compliance with the deal at the international level. Trump explained that the White House would work with the Congress and the US allies to fix the "many serious flaws" of the agreement with Tehran.
The Russian Foreign Ministry has previously expressed concern over the US withdrawal, adding that a return to the situation around the Iranian nuclear program before the adoption of the JCPOA was impossible, especially in regard of reimposing UN sanctions on Tehran.
Earlier in the day another Russian parliament's member Leonid Slutsky also commented on this step, saying that the US is "balancing on the red line" and may isolate the country in the UN Security Council.
The Joint Comprehensive Plan of Action (JCPOA),  commonly referred to as the Iran Nuclear Deal, was signed in July 2015 by Iran and the P5+1 group of nations comprised of the United States, Russia, China, France and the United Kingdom plus Germany after years of diplomatic work.