The US and the NATO are no longer hiding their goals, they are beefing up their military presence on Russia's borders, Vladimir Golstein, Associate Professor of Slavic Studies at Brown University, told Sputnik, adding that the West is trying to manipulate Moscow into engaging in yet another arms race with the Atlantic bloc.
NATO Will Continue Moving Eastward No Matter What
"NATO will continue to use any opportunity for a continuous military buildup," Golstein pointed out, "Again and again, [NATO and the US] officially declare that they view Russia as their most serious adversary. Consequently, they would use every opportunity to surround Russia with various military installations. That's given."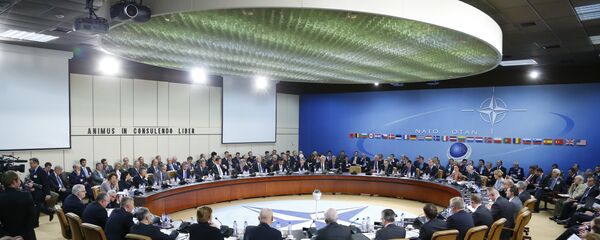 12 October 2017, 16:15 GMT
According to Golstein, the US is actually "pushing Russia toward the next round of a military buildup, in the hope of bankrupting Russia." He recalled that the previous arms race between the US and the Soviet Union dealt a heavy blow to the USSR's economic development.
However, the situation has dramatically changed since then: "Russian military forces have become leaner and more intelligent," the professor stressed, "I am sure that they are now working out different strategies of confronting NATO escalation in an asymmetrical way, which could provide deterrence without bankrupting the country."
On the other hand, Washington's economy "is not the same as it used to be," Golstein remarked.
"[Being] challenged on a number of fronts, including the spectacular rise of China, the US runs the risk of bankrupting itself, before it bankrupts Russia," the academic highlighted.
However, the US foreign policy elite continue to push ahead with its anti-Russian agenda.
'US Wants to Remain a Player in Syria'
In Syria, Washington is making every effort "to preserve the enclaves of Syrian militants who hold on to particular territories, and who remain loyal to the US," the academic noted.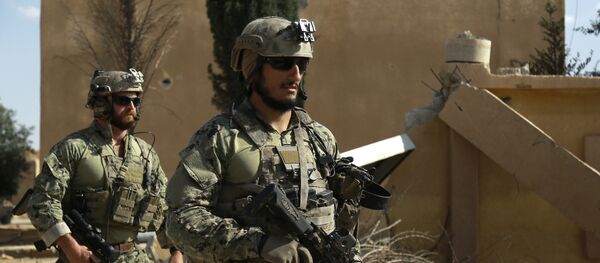 13 October 2017, 16:47 GMT
He underscored that with the assistance of "these de jure or de facto pro-American militants" the Pentagon is trying to maintain control over oil-producing regions, like Deir ez-Zor, as well as "the crossroads of important highways connecting the east and west of Syria, or important locations, along the borders."
At the same time, the US isn't concerned whether its actions contradict Russia's efforts to resume political dialogue and help Damascus restore peace and order in the country.
The US military activity on the ground in Syria and Iraq prompts serious concerns among the Russian General Staff, which has repeatedly asked the Pentagon to provide explanations for its controversial operations in the region. It appears that the US is no longer focused on eradicating Daesh (ISIS/ISIL).
Last Wednesday Russian Defense Ministry spokesman Maj. Gen. Igor Konashenkov asked how 300 Daesh terrorists on pickup trucks had managed to infiltrate a US-held zone in Syria's al-Tanf region. Later the extremists were spotted trying to block a strategically important road linking Damascus and Deir ez-Zor, which is used for delivering humanitarian aid to civilians and supplies for the Syrian Arab Army (SAA).
Earlier the ministry demonstrated aerial photographs depicting US Special Ops and Syrian Democratic Forces (SDF) moving through Daesh positions near Deir ez-Zor while facing no resistance.
© AP Photo / APTV
This Saturday, April. 29, 2017 still taken from video, shows an American soldier looking out of an armored vehicle in the northern village of Darbasiyah, Syria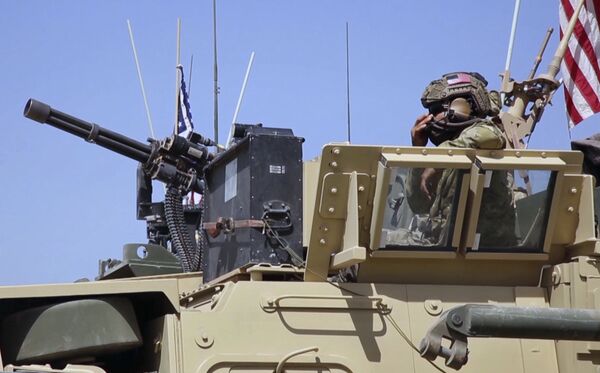 This Saturday, April. 29, 2017 still taken from video, shows an American soldier looking out of an armored vehicle in the northern village of Darbasiyah, Syria
'It's Unclear Who is in Charge in Washington'
Simultaneously, the American political establishment is fanning the flames of  anti-Russian sentiment in the US. The diplomatic standoff between Moscow and Washington which was recently marked by the removal of Russian flags from the country's diplomatic property in Washington DC and San Francisco, seized by the US in September is coupled with the witch-hunt against Russia Today (RT) and Radio Sputnik.
According to Golstein, "one of the complexities of today's situation is that it is not clear who is in charge in Washington."
"The president, media, secret services, the Pentagon, the US State Department — all seem to be playing their own tunes, confusing themselves and the rest of the world even further," the academic emphasized, adding that there are apparently few constants which remain intact, one of them however is Washington's attitude toward its longstanding Mideast ally, Israel.
Why Trump Hesitates to Implement Anti-Russian Sanctions
One of the controversies simmering within the US political machine is the latest set of anti-Russian sanctions, signed by US President Donald Trump into law on August 2.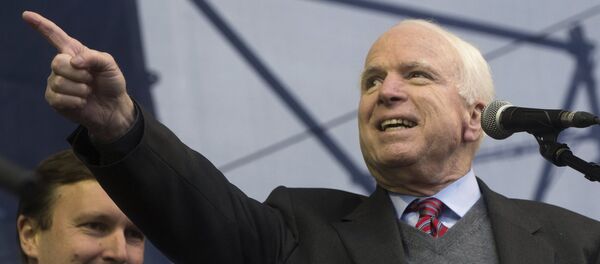 12 October 2017, 17:42 GMT
US lawmakers, Senators John McCain (R-AZ), Chairman of the Senate Armed Services Committee, and Ben Cardin (D-MD), raised the alarm over Trump's purported unwillingness to implement restrictive measures against the "Russia defense and intelligence sectors, as stipulated in the Countering America's Adversaries Through Sanctions Act."
In their letter dated October 11, McCain and Cardin claimed that the Trump administration had missed the deadline in enacting the sanctions, set by the lawmakers in their previous request on September 28.
"The delay calls into question the Trump administration's commitment to the sanctions bill which was signed into law more than two months ago, following months of public debate and negotiations in Congress. They've had plenty of time to get their act together," the senators wrote.
Trump's actions are quite understandable, according to Golstein: "The sanctions were clearly not to the liking of President Trump, while confrontation with Russia has never been on his agenda."
"He was forced to go along with sanctions due to his weak political position out of fear of weakening it even further," the US academic explained. "[Trump] is obviously not in a position to be portrayed as being 'soft' on Russia," he added.
The professor noted that "it is also clear, that [the US president] has many other items on his domestic and international agenda, so he'll do all he can do to delay implementing anti-Russian sanctions, as long as this delay does not become a political liability."
US-Russian Standoff Won't Translate Into Nuclear Conflict
However, one shouldn't lull oneself into believing that Russo-American détente is around the corner.
"The US will continue portraying Russia as an adversary, and will do everything in its power (media, diplomacy, subservient European politicians) to continue focusing on Russia's threats," the US academic foresees. "That policy has been good for business and for ideology, and there is no reason to imagine that it will change."
At the same time Golstein opined that all these policies would not escalate to a potential nuclear confrontation: "While  wars on the other territories using small forces are entirely possible, no US government is ready to push their militarism further than that," the academic concluded.
The views expressed in this article are solely those of the author and do not necessarily reflect the official position of Sputnik.