Sebastian Kurz, who has been serving as the Minister of Foreign Affairs since December 2013, and was "unanimously elected" the new leader of the conservative Austrian People's Party (OVP) in May 2017, has managed to significantly increase the party's ratings, not least due to his strong personality and leadership skills, Austrian political observer Hannes Hofbauer and political consultant Dr. Norbert Van Handel told Sputnik Germany.
"He is a very hard-working person who probably does not sleep much. In the last ten to fifteen years, he put aside everything that did not benefit his career. Already at the age of fifteen he applied to the Youth People's Party (editor's note: a youth organization of the Austrian People's Party) and said that he would like to take part in its work. He was told that he was still too young, and he answered spontaneously: from year to year this problem will gradually disappear. This actually shows his desire to engage in political activities, as well as his ambition and diligence," Hofbauer said.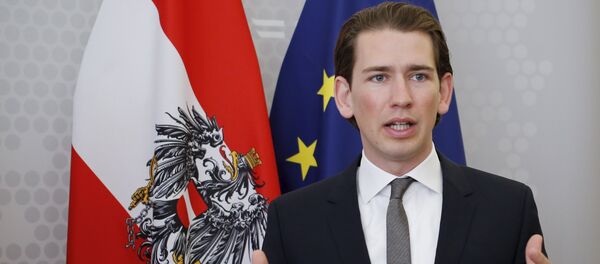 15 October 2017, 18:58 GMT
A similar point of view has been expressed by Van Handel, an influential entrepreneur and member of the Austrian People's Party, who called Kurz "a very politically gifted person."
"He held ministerial posts for seven years and did his work very well," Van Handel said. "Kurz is charismatic, he looks good, he managed to build an organizational network, and he is well aware of his power. All this probably does not necessarily please the representatives of the older generation in the party. But this is a fact that you have to live with."
However, Hofbauer is rather disillusioned about Kurz's age: youth could do more harm than good, the analyst says.
"His experience is still insufficient, and in general — from a person holding such a high post, many expect that he has already seen a lot and has a certain life experience," Hofbauer said.
What's Next for Kurz?
As for the formation of a new government, both experts believe that the most likely scenario would be a coalition between the Austrian People's Party and the Freedom Party of Austria (FPÖ) led by Heinz-Christian Strache, who is known as a Eurosceptic and supporter of a constructive dialogue with Russia.
Van Handel is confident that the positions of the two politicians overlap in many ways, which is why constructive cooperation between them is quite possible.
"In terms of foreign policy, they quite likely might give up this idiotic strategy towards Putin," the entrepreneur said, adding that Austria is much friendlier than the rest of the EU when it comes to Russia.

14 October 2017, 18:29 GMT
At the same time, he noted that Austria is incapable of pursuing a policy toward Moscow which would be independent from the rest of the EU.
"If Austria could itself determine a policy towards Russia, then this policy would be rather friendly…But in the EU, Austria is one of the smaller countries, and its voice is not strong enough to make this position work," Van Handel concluded.
Sebastian Kurz's Austrian People's Party (OVP) won the support of 31.5 percent of voters in the snap parliamentary elections in Austria that took place on Sunday. The OVP is followed by the Social Democratic Party of Austria (SPO) backed by 26.9 percent of voters, while the right-wing Freedom Party of Austria (FPO) finished third with 26 percent of votes.