Disproportionately wealthy regions like Lombardy and Catalonia have incentives to govern more autonomously, Spannaus observed. "A region like Catalonia says, 'Gee, we contribute so much to the country, and we don't get a lot back,'" Spannaus said, "or 'We don't get to keep enough of our tax euros.'" This drives them to seek independence in order to keep control of those resources and the wealth they produce.
​Spanish Prime Minister Mariano Rajoy promised to dismantle the Catalan government Thursday after accusing Catalan Regional President Carles Puigdemont of failing to comply with an ultimatum to tell the federal government whether the region had truly seceded.
Rajoy invoked Article 155 of Spain's constitution in order to rein the wayward province back into Madrid's control, but Spain's cabinet has to vote on the article's implementation, necessary for it to take full effect. The procedure is slated to begin Saturday.
Article 155 permits "all measures necessary to compel" a region to adhere to Spanish law, Rajoy's government said in a Thursday statement. After the cabinet meeting, the measure will advance to the country's Senate, Politico Europe reports.
Rajoy noted "the refusal of the president of the Generalitat of Catalonia," Puigdemont's regional executive government, "to comply with the requirement… to report in a clear and precise way if any authority of Catalonia had proceeded to declare independence."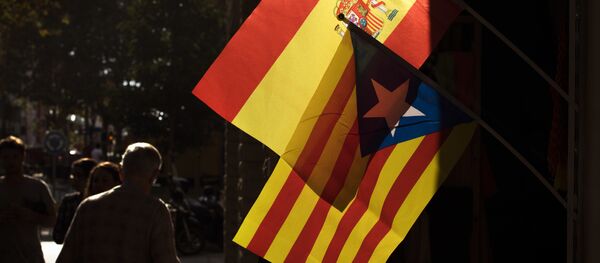 19 October 2017, 08:26 GMT
In a letter Thursday, Puigdemont warned Rajoy that the regional government would proceed with a vote for a "formal declaration of independence" if Madrid insisted on "impeding dialogue" and continuing to repress the people of Catalonia.
On October 1, more than 90 percent of Catalan voters cast ballots in favor of secession. Spanish courts have maintained the vote was held illegally, and the turnout to vote was low.
Spannaus explained the "Europe of Regions" concept to Fault Lines, stating, "In exchange for giving up national sovereignty — countries allowing basically the European Union to have a supranational bureaucracy that would decide on the most important things — there was a push to convince people that in exchange for that, we'll give you more local autonomy," the journalist explained.
"This plays a role in various regions in Europe asking for more control or independence," he added. On October 22, another European region, Lombardy, is scheduled to hold a non-binding referendum that could allow the prosperous region to keep more than 45 billion euros in taxes from going to the Italian federal government, Spannaus noted.