The Government of Spain stated that on Saturday it will begin the procedure for invoking Article 155 of its Constitution, which will suspend the autonomous status of Catalonia. The government has vowed to take every opportunity at its disposal to "restore, as soon as possible, the legality and constitutional order, restore peaceful coexistence between citizens, and stop the economic deterioration caused by the unstable legal situation in Catalonia."
Spain will proceed with Article 155 of the constitution as deadline to clarify Catalonia's secession has expired.

— Luis A. Garcia (@Luis3RG) 19 октября 2017 г.
Also a special group of experts had been set up in Madrid to determine what actions would be legitimate in the event of Catalonia's refusal to fulfill the obligations of the Spanish Constitution.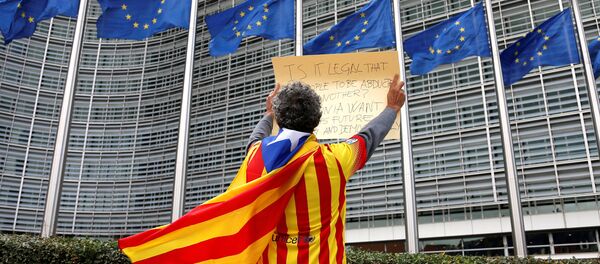 14 October 2017, 09:25 GMT
On October 1, a referendum on independence was held in Catalonia, more that 90 percent of
voters
agreed to secede from Spain. Following the vote, t
he Catalan leader said the region deserved to be sovereign; however, he urged the parliament to suspend the declaration of independence.

The Constitutional Court of Spain recognized the vote as not in accordance with the constitution.