The test marked the first time the Marines had fired the artillery system from the sea. The weapon took aim at a mock target — suspected air defense installments on an island 70 kilometers away — and wiped it out, US Naval Institute News reported from aboard the USS Essex October 24. The test took place as part of Dawn Blitz, exercises held by the First Marine Expeditionary Force and US Navy's 3rd Fleet forces.
"It's a significant capability," Lt. Col. Tom Savage told reporters on the Essex, noting, "the ability to project power from and at sea is critical."
Rear Adm. Cathal S. O'Connor gave HIMARS rave reviews, detailing that HIMARS is "very precise, which will minimize civilian casualties," adding that the projectile hits what commanders want it to hit "and nothing else." 
O'Connor explained that the objective "could have been a surface-to-air missile. It could have been a radar site which was monitoring the area that we were operating in. It could have been a cruise missile site. Or it could have been a command-and-control center — all of which would impact our ability to go and operate where we want to be."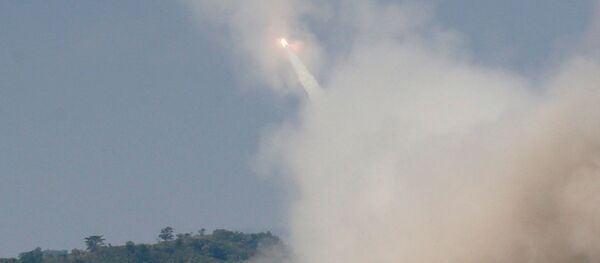 3 September 2016, 14:52 GMT
Amphibious forces have self-defense systems but their strike capability is not very robust and they usually don't deploy with naval destroyers that have long-range firepower. HIMARS offers marines the ability to support sea control, USNI News notes.
HIMARS could also allow the Marines to more imaginatively use the weapons and defensive systems they already have. On a Marine ship, "you're not going to see Marines just sitting down on their bunks reading magazines," USMC Gen. Robert Neller said in September. "You're going to see snipers up on the weather deck. You're going to see guys up there with javelins and heavy guns. You're going to see air defenders up there with air defense systems."
"On ship, we have marines sitting below deck. They have weapons. We've got to think about creative ways to utilize that capability," Brig. Gen. Rick Uribe says. Before getting to excited about HIMARS, Uribe said, "one shot, to be fair, is one shot…the shot did exactly what we wanted it to do, based on the model. So it is a basis from which to go forward."