WASHINGTON (Sputnik) — The US Navy has announced an amphibious and aerial training exercise in Okinawa dubbed Blue Chromite conducted together with the Marine Corps.
"The exercise is designed to evaluate forward deployed battalions and squadrons while maximizing the number of III Marine Expeditionary Force (MEF) units conducting operations while fully integrated with naval forces."
Blue Chromite is an annual exercise and this year it is conducted ahead of President Donald Trump's scheduled visit to South Korea, China and Vietnam amid heightened tensions between the United States and North Korea. Washington has already dispatched three aircraft carrier strike groups to the Asia-Pacific within range of North Korea.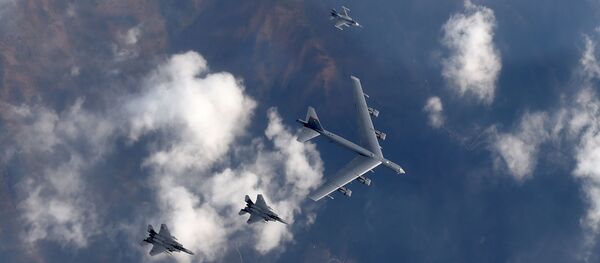 29 October 2017, 14:07 GMT
According to the US Navy release, its dock landing ship Ashland and the 1st Marine Battalion on board the ship were set to sea on Monday to begin the exercise.
The Ashland has been deployed for five months in the Asia-Pacific and is described as a ready-response asset for any contingency.
Trump's Visit to Asia
Trump will arrive in South Korea on November 8 during his 12-day trip to the region — the longest visit to Asia by a US president in the last 25 years.
According to a senior administration official, Trump will not make a stop at the demilitarized zone (DMZ) that separates North and South Korea.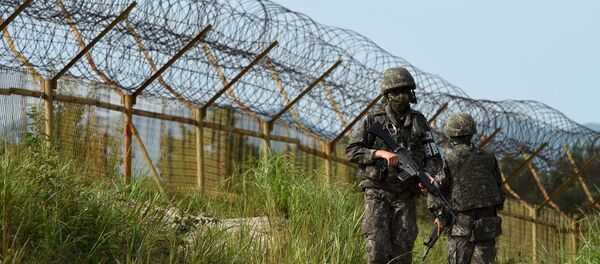 29 September 2016, 07:19 GMT
However, Trump is set to speak to US and South Korean military members at Camp Humphreys, a US Army garrison located 55 miles south of Seoul.
The White House determined that Trump delivering a speech at Camp Humphreys would be more important than a stop at the DMZ in terms of messaging since the US president will underline South Korea's role in supporting the two countries' alliance.
US Defense Secretary James Mattis and Vice President Mike Pence have recently visited the DMZ.
Focus on China Trade
A balance in the trading relationship between the United States and China will be a major topic of discussion during US President Donald Trump's visit to China, a senior US administration official told reporters on Tuesday.
"On China, a big focus of the discussion, I think, with the Chinese government and also with the APEC [Asia-Pacific Economic Cooperation] economies is the need to have a balance in the trading relationship," the official said.
According to the official, the bilateral economic relationship to be sustainable over the long-term, "China must provide fair and reciprocal treatment, not just to US firms, but firms across the region.

21 August 2017, 10:15 GMT
That means "ceasing predatory trade and investment practices," he added.
"We believe this reflexes slowdown and even a retreat in China's move toward a market oriented economy," the official stated.
Moreover, the official said Trump will continue to push China to follow through on its recently-made commitments — and those Beijing made when it joined the World Trade Organization — to take steps toward a more market-oriented economy.
"I think what we are seeing is the trajectory of retrenchment, the trajectory of moving away from market-based principles. And as a member of WTO that is not a sustainable direction, it is not a way to promote economic growth in the region. It's not a way for American and other companies to ensure fair access to their markets," the official said.
The official concluded that the United States would like to see China "move toward more the market-oriented, systemic changes that would be necessary to help really thrive and enhance growth in the region, and help all the economies thrive."