The US Air Force did not submit the criminal history of gunman Devin Patrick Kelley to the FBI as required by their own regulations. Kelley, who also injured 20 in his attack on the First Baptist Church in Sutherland Springs, Texas, was ousted from the Air Force for domestic violence toward his ex-wife and his stepson in 2012. That information, had it been shared, should have prevented him from buying a firearm.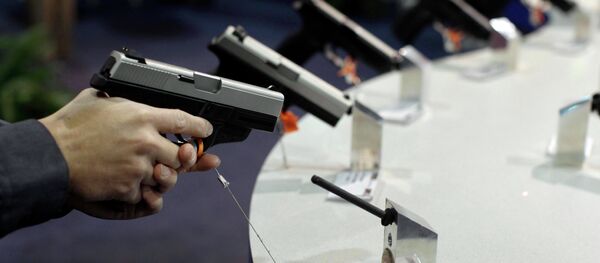 6 November 2017, 20:48 GMT
Kelley was serving at Holloman Air Force Base in New Mexico when he was convicted on two charges of domestic assault under Article 128 of the Uniform Code of Military Justice. He was later released with a bad conduct discharge, meaning that federal law should have prevented him from buying or possessing firearms, since he was convicted of a crime involving domestic violence against a spouse or child.
However, the Air Force failed to enter Kelley's domestic violence offense into the National Criminal Information Center (NCIC) database, which allowed him to pass a background check and legally purchase the firearm he used to kill people ranging from 18 months to 77 years old.
According to Reuters, the Air Force admitted on Monday that it doesn't appear at this time that they ever entered information about Kelley's domestic violence offense in the NCIC database. It has requested that the Pentagon's inspector general review records and procedures in the Department of Defense.
"This was mishandled by the Air Force Office of Special Investigations at Holloman Air Force Base in New Mexico, where Kelley was serving when he was arrested. An investigation is now underway, and the Air Force is taking it very seriously, said the source," Tom Bowman, an official at the Pentagon, told NPR.
According to Air Force spokeswoman Ann Stefanek, "The Air Force has launched a review of how the service handled the criminal records of former Airman Devin P. Kelley following his 2012 domestic violence conviction."
The shooter, who sent threatening text messages to his mother-in-law before the attack, is not believed to have committed the attack for racial or religious reasons, according to the Texas Department of Public Safety Regional Director Freeman.