SUTHERLAND SPRINGS (Sputnik) — Lors and Wesley Shepard from Cibolo, a town some 30 miles northwest from Sutherland Springs, came to the affected town to pay tributes to the victims of Sunday's shooting and their families.
"So much attention is being brought to this small community and because of guns. We have to realize that guns are not the answer," Wesley Shepard said.
Wesley Shepard argued the US president and all who have power to change existing legislation in the United States need to strengthen gun laws "because what we are doing is going one after another with the weapons; we need to be mindful of that."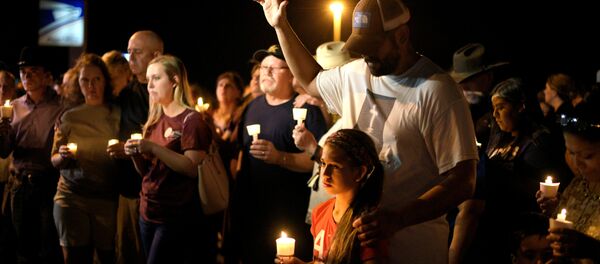 6 November 2017, 06:35 GMT
Wesley Shepard identified himself and his wife Lors as Christian and characterized Sunday's shooting as an example of cowardice.
"It also reminds us how important it is to pray for one another, pray for even the lost that they may find Jesus at some point of their life. We want to pray for those that lost loved ones," he said.
Lors Shepard said they felt sadness, hurt and disappointment when learning of Sunday's massacre especially that someone would do such an act during a church service.
"It's just unfortunate that we have heartless, cowardly people… We have a church at home and that could happen to anybody. And to know that it happens in a small town near where we live, we wanted to come and see. We have never been here before," she said.
Jaime Garza, 30, from San Antonio, told Sputnik that he is heartbroken to learn about the shooting on Sunday. And although he did not know any of the victims personally, he drove from San Antonio before his work at DirecTV to bring the flowers to show his support and solidarity with everyone affected by the tragedy.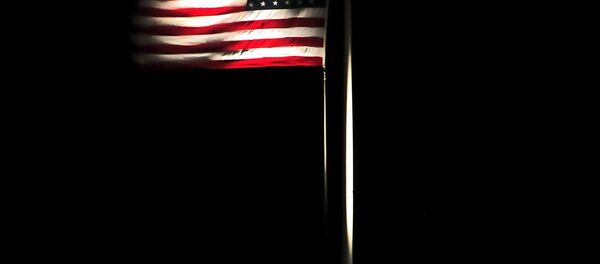 6 November 2017, 04:31 GMT
"I just felt like I needed to come here to drop off some flowers, I felt it with my heart," Garza said. "I wanted to show some type of support that devil can't break us."
Garza noted that he goes to a different church in San Antonio, and had not gone to church for a long time, but went yesterday after learning about the incident.
"It was heartbreaking," he said. "They were innocent people that got affected by this, who probably had nothing to do with what was going on with the guy. It's just sad how someone could take innocent lives like that."
Minutes That 'Seemed Like Hours'
Lorenzo Flores, a 56-year-old town resident, who was at the gas station across the street from the First Baptist Church and who witnessed the deadly incident, told Sputnik on Monday that it took the local police several minutes to arrive at the scene, but even a fraction of that period in the critical situation felt like an hour.
"[At] a time like this, three minutes seems like an hour, so I say about six, seven, eight minutes, you know, they were in the area," Flores said. "We called 911, but I think everybody was calling them at the same time so they took a little time to answer," Flores added
The witness also said he is really heartbroken and while he did not know the victims by name, he knew them by faces.
"They're all our customers," Florez said.
'Heroic' Effort Made to Stop the Shooter 
Flores also witnessed how a cowboy and a neighbor chased the gunman.
"We saw the guy, we heard the guy shooting at the shooter, which is the neighbor, was shooting at the shooter with the handgun 'pah, pah'. It was a different kind of shot," Flores said on Monday. "Then, the cowboy, the hero, he was coming northbound, took a left, and went right into the middle of the shooting, so he walked into that one. But when he did that, I guess the neighbor that was shooting at the guy stopped him and told him what was going on."
By that time, Flores added, the shooter was already in his SUV across the road as the neighbor and the cowboy chased him.
"The neighbor got out with the cowboy and they chased him down the road. And at this point they took a shot at him, I guess, and broke his [car] side," Flores said.
Right before the shooting began, Flores, who was parked at the gas station across the road looked in the direction of the church, and saw the man dressed like GI Joe in black. The man with a rifle was doing certain motions that made Flores suspect that there was something wrong.
"It didn't seem common, it isn't something you see every day, you see guns and rifles here in this community all the time, but not in that fashion, not in that form," he explained. "So I stayed looking and I told my girlfriend Teri, there's some guy up there with a rifle, I wonder what's going on."
Flores then went inside the gas station and warned the lady behind the counter about the man with a rifle, but shortly after heard the shots fired.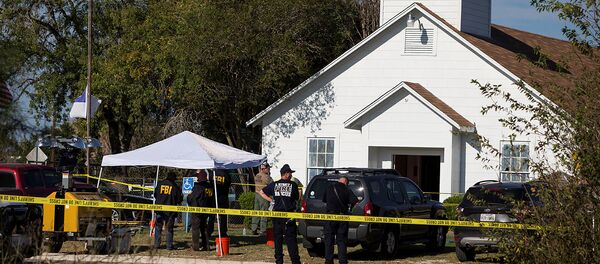 6 November 2017, 23:56 GMT
"Sure enough it started. He started shooting. What was that? He won't take the finger off that trigger," he said. "I come back outside and the guy's still shooting, and it was just ugly, it sounded ugly, it didn't sound normal. And then outside, between those buildings, we saw him run like that, he was shooting from the outside inside going all the way around."
Then, Flores continued, one of the victims managed to get out of the church and get to the gas station.
"He was all bloody from his elbow, his face and all this. All blood," Flores said. The victim, according to Flores, said that a "crazy" person was shooting up the congregation at the church, where the victim's family was. The victim's brother was shot in the back, Flores said, but the man and his family are safe now.
The witness also shared with Sputnik how he felt when the shooting situation was developing.
"Scared, brave at the same time. I'm a man," he said. "I was scared for those people and all, at the same time I'm brave, but there's nothing I could do about it. I didn't have that semi-automatic gun. If I should have, if I would have, I would have done exactly what the cowboy and that other guy did."
​While the area of the latest deadly shooting is cordoned off and no one is allowed to come close, there is a place near the police tape where people can lay flowers to show their support and to honor the memory of the victims.
On Sunday, gunman Devin Kelly opened fire at the First Baptist Church in Sutherland Springs, killing 26 people and injuring at least 20. Ten of the wounded are still reportedly in critical condition.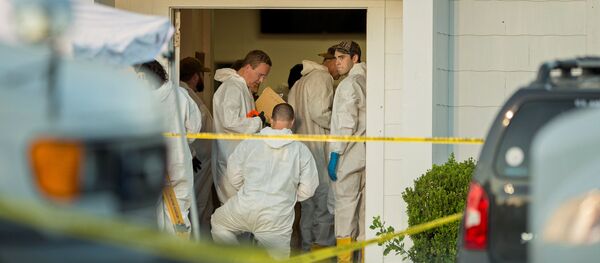 6 November 2017, 14:21 GMT
The US Bureau of Alcohol, Tobacco, Firearms and Explosives said 26-year-old Kelley purchased three firearms that were found after the shooting. The firearms include a rifle that was left in the church and two handguns in his vehicle where police found Kelly dead.
The Texas Department of Public Safety is still investigating the motive in the case, regional director Freeman Martin told reporters. Martin did confirm, however, that Kelley had expressed anger towards his mother-in-law who was a member of the church.
The deadly incident happened during President Donald Trump's first trip to Asia. After the shooting, Trump pledged the US federal authorities would help local law enforcement officers to investigate the shooting and assured he was monitoring the situation from Japan.