An emergency helicopter was required to transport the sailor, whose name has not been revealed, to Scripps Memorial Hospital in San Diego, according to a report by Los Angeles Times.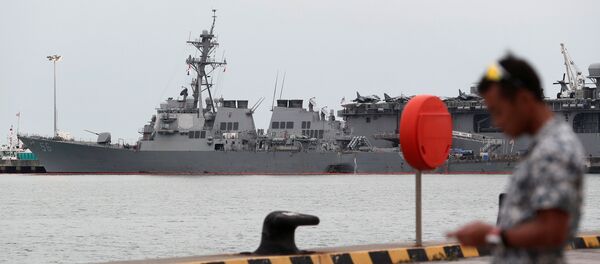 28 September 2017, 22:30 GMT
The incident caused the Carl Vinson, which is taking part in sustainment training exercises off the coast of southern California, to suspend all flight operation scheduled that day and delay many operations scheduled for next day.
The sustainment training exercise, or SUSTEX, is training that allows carrier strike groups to evaluate their combat readiness in expectation of a combat assignment.
Stock video footage found on the web shows planes being towed by a tractor vehicle at speed. In the meantime, crew members can be seen wandering around, at times going between the moving vehicles. The flight deck is also heavily crowded, and for those not paying attention, injury would seem to be imminent.
The US Navy is investigating systematic problems that have riddled the service and are believed to be contributing factors to this year's two high-profile deadly collisions. As Sputnik reported earlier, the investigators have found that US sailors are direly overworked, with shifts taking up to some 15 hours per day. The lack of rest has subsequently led to negligence of safety regulations and excessive reliance on electronic systems.
The Navy decided to address the issues by changing its work timetable in favor of much shorter shifts, but at the same time it has increased the load on sailors by requiring exercises and training that focus on labor-intensive basics such as old-school compasses and pencil navigation.