Reuters reportes that this group of 10 consists of seven women and three men. At least one of them is a child, a three-year-old boy. They fled across the border between North Korea and China, but were taken into custody in the city of Shenyang, Liaoning province, about 130 miles from the border with DPRK.
South Korean Foreign Ministry spokesman Roh Kyu-deok said Seoul was "closely monitoring" the 10 defectors. "We're making diplomatic efforts with related countries so that the defectors will not be forcibly repatriated," Roh said in a statement, although he did not provide details.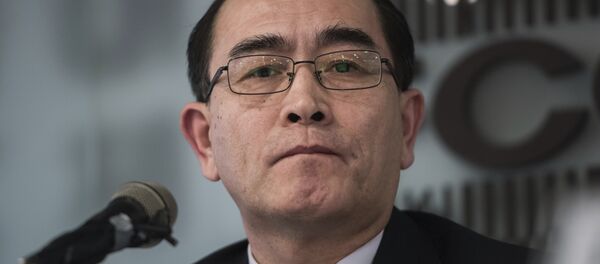 2 November 2017, 17:07 GMT
Reuters' source was "Lee," a North Korean man who asked for his name to be withheld because his wife and son (the three-year-old) were among the detainees. "I told her to call again and was waiting and hoping she would find a safe place somewhere, but she never called me back," Lee said.
China's Foreign Ministry spokeswoman Hua Chunying said that she was unaware of the details of the case, but that China would handle the case in accordance with both domestic and international law as well as humanitarian principles.
Another anonymous source told Reuters that China has cracked down on North Korean defectors entering their country. "North Korean defectors and people working in the field are worried that South Korea isn't raising this issue with Beijing as strongly as before, as they are trying to improve relations," the source said.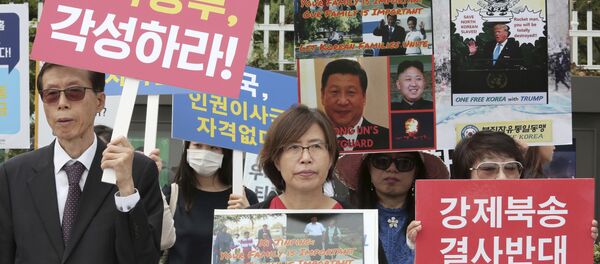 23 October 2017, 22:11 GMT
From July 2016 to July 2017, Human Rights Watch logged 51 arrests of DPRK defectors in China — but in July and August 2017 alone, HRW logged another 41 arrests — a tenfold increase.
Some sources, such as South Korean Reverend Kim Seung-eun, who has helped hundreds of North Koreans resettle in the South, has placed the number even higher: 100 arrests in the last two months. "While the world is preoccupied with the North Korean nuclear crisis, these refugees' plight has gotten little attention," he told the New York Times.
Chinese law does not treat those who flee North Korea as refugees. Instead, they are considered illegal economic migrants and usually deported. Many are punished upon their return to North Korea, with some facing torture and execution, according to Human Rights Watch.
"Make no mistake: sending them back across the border makes Beijing complicit in the torture, forced labor and, in some cases, executions that others sent back to North Korea have faced," Phil Robertson, Deputy Asia Director for Human Rights Watch, said in a statement pertaining to the ten defectors.

11 October 2017, 20:40 GMT
Because of Beijing's refusal to grant them refugee status, the majority of North Korean defectors in China do not intend to stay there permanently. Most instead head to South Korea, which grants defectors a financial aid package and sometimes other benefits such as an apartment. An estimated 31,000 people have defected from North Korea to South since 1998.
However, due to the heavily militarized border between the two Koreas — the most heavily guarded in the world — would-be defectors must go through China, whereupon they usually head to sympathetic countries like Mongolia or Thailand, who will "deport" them to South Korea.
Ironically, South Korea has recently seen some former North Korean defectors leave their country as well, often citing discrimination and isolation.