"There are three scenarios… The first variant: everyone comes round, understands that we [RT] are not that scary, we have no horns, no hooves, no tail, and we operate as a regular media outlet, that we should be left alone, and then we will continue broadcasting, all of this will just be reversed," RT Editor-in-Chief Margarita Simonyan told Rossiya 1 broadcaster.
The RT editor-in-chief said it was possible that Russia would then also cancel the measures it introduced in response to pressure on RT abroad, as the steps were merely reciprocal. The Russian lower house of the parliament adopted earlier on Wednesday in third and final reading an amendment allowing to classify foreign media funded from abroad as foreign agents in Russia.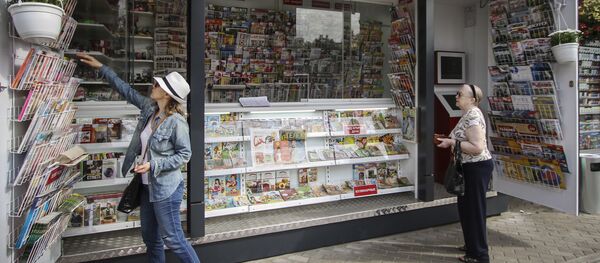 14 November 2017, 13:56 GMT
According to Simonyan, the neutral scenario would be the status quo, with all current restrictions on RT in place.
"Everything will stay approximately the way it is, we will be working in the existing circumstances," Simonyan said.
The most pessimistic outcome would be the full loss of access to the viewers for RT.
"And then there is the pessimistic scenario; unfortunately, many among my colleagues believe in it: everyone will lose access everywhere. We will be shut down, forbidden, pushed off all platforms, and one can only guess how Russia will respond," Simonyan said.
According to sources cited by RIA Novosti, Current Time Radio, which is the joint project of Radio Free Europe/Radio Liberty (RFE/RL) and the Voice of America as well as RFE/RL itself have been notified about possible inclusion in the list of foreign agents in Russia.
RT's Registration Under FARA
Moscow has vowed to respond to the demand issued by US Department of Justice on RT America's registration under FARA by November 13, with the Russian Foreign Ministry calling the move an "unfriendly step."
On Monday, RT Editor-in-Chief Margarita Simonyan announced that RT America had registered as a foreign agent in the United States to comply with the demand, explaining that the broadcaster was choosing between a criminal case and registration.
READ MORE: US Demand for RT FARA Registration 'Sounds Like Desperation' — Daniel McAdams
While Washington's demand wasn't applied to many other foreign state-funded media outlets, including BBC, the Kremlin has vowed to respond to any violations against Russian journalists.