BRUSSELS (Sputnik) — President Vucic expressed his gratitude for the alliance's efforts to ensure peace and stability in the region.
"I asked [Stoltenberg] not only to avoid the withdrawal of the peacekeeping forces, but to maintain its presence in Kosovo and Metohija at the unchanged numbers," he told a press conference at the NATO headquarters.
"I am thankful to Stoltenberg and NATO members for supporting peace and stability in Kosovo and Metohija, first and foremost, through KFOR units. The NATO's role in ensuring security for our people and our sacred sites is of an exceptional importance," Vucic said.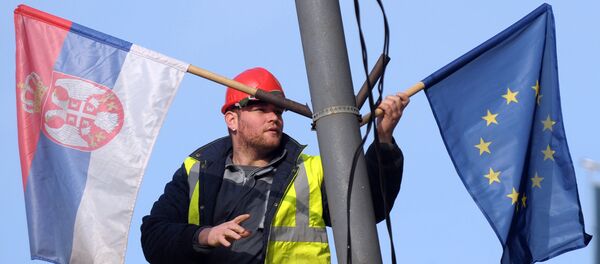 15 November 2017, 20:12 GMT
The Kosovo War between the ethnically Albanian Kosovo Liberation Army (KLA) and the forces of Yugoslavia, consisting of Serbia and Montenegro in 1998-1999, ended after the UN-backed international intervention following NATO's bombing of Yugoslavia's troops.
In 2008, Kosovar Albanian groups in Pristina unilaterally proclaimed independence from Serbia, and over 100 UN member states officially recognized Kosovo. Serbia, alongside Russia, China, Israel and several other countries, does not recognize Kosovo's independence.