The lucky survivor, 25-year-old Charlie Fry, is a British doctor who arrived in Australia a couple of months ago for work. Fry had recently watched a YouTube video in which Australian professional surfer Mick Fanning explains how he escaped the jaws of a great white shark during a 2015 surfing competition, the San Francisco Chronicle reported.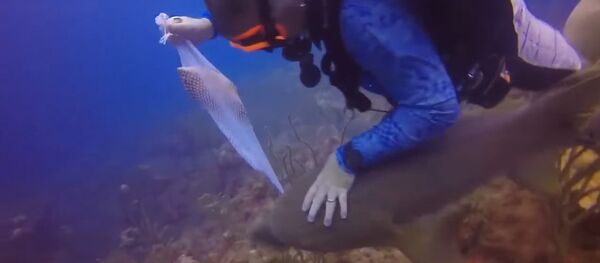 8 November 2017, 06:00 GMT
Little did Fry know then that that video would soon save his life.
"I was out surfing and I got this massive thud on my right-hand side; it completely blindsided me," Fry said.
"I thought it was a friend goofing around. I turned and I saw this shark come out of the water and breach its head," he said.
"So when it [the attack] happened, I was like: Just do what Mick did. Just punch it in the nose," Fry told Nine Network television. "So Mick, if you're watching or listening, I owe you a beer. Thank you very much."
"So I just punched it in the face with my left hand and then managed to scramble back on my board, shout at my friends and luckily a wave came, so I just sort of surfed the wave in," he added.
Fry didn't realize he had suffered superficial puncture wounds on his right shoulder and upper arm until he reached the shore.
"I didn't really notice it at the time because when you're surfing, all I'm thinking was: 'I'm about to die. I'm literally about to die,'" Fry said.
"So I thought… 'get in as fast as possible, ride the wave for as long as you can and then just start paddling for your life,' " he added.
Fry's friends, who all happen to be doctors, rushed him to Gosford Hospital, where they work, and the beach was closed for 24 hours.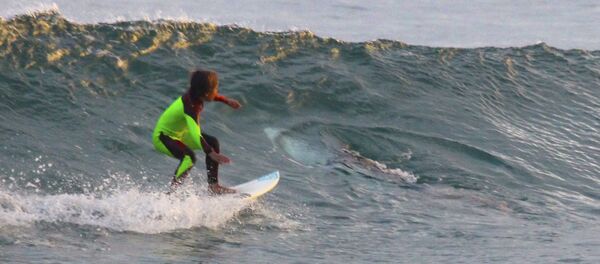 28 August 2017, 22:22 GMT
A rescue helicopter spotted the 10-foot shark that attacked Fry near the site of the attack, known as "shark tower," and said they would use drones to confirm whether the shark had left the site on Tuesday, the Australian Broadcasting Corporation reported.
Fry has to stay out of the water for a week because of his injuries, but "after then, I'll be racing to get back in," he said.
Australia has had many shark attacks over the years. This year alone has seen one fatality and 10 injuries.
Although punching a shark in the nose may now seem like a good idea on the off chance that you find yourself in a similar situation, David Shiffman, a doctoral student at the University of Miami's Abess Center for Ecosystem Science and Policy studying shark ecology and conservation, advises against it.
"In the extremely rare instance of a prolonged negative encounter, the stereotypical advice is to punch the shark on the nose. Have you ever tried punching underwater? It doesn't work very well. As with all animal attacks, the best advice is to go for the eye. If you poke something in the eye, it will stop what it is doing. Sharks have a protective eyelid-like barrier called a nictitating membrane, but it's designed to protect from a thrashing fish caught in that shark's jaws and not from fingers," Shiffman explained.
So if you find yourself face-to-maw with a shark, go for the eyes, not the nose.