"The task of destroying the Daesh militia in Syria by the Russian Armed Forces has been accomplished," Rudskoi said, speaking at a press briefing.
Over 550 militants, six tanks and 14 jihad-mobiles were destroyed in Syria while storming the terror group's last strongholds, Rudskoi added.
The senior officer emphasized that to date, not a single settlement or district remains under the terrorist group's control in the country. However, small pockets of militant resistance may continue to be found, subject to destruction by Syrian government forces, he added. The last major concentrations of Daesh militants were defended by heavily-armed terrorists as well as mercenaries.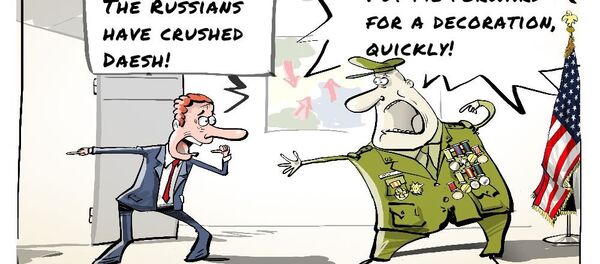 5 December 2017, 16:20 GMT
According to Rudskoi, the past month saw the liberation of the city of Abu Kamal, along with a number of settlements on the western bank of the Euphrates River. Over the past week, Syrian government forces supported by Russian air power had completely liberated the area northwest of the city of Abu Kamal, covering a total area of roughly 2,500 square km.
The officer revealed that the final stage of the operation to free Syria from the jihadists involved the concentrated use of the Russian Aerospace Forces, including long-range aviation, with Russian aircraft carrying out a hundred or more sorties daily and upwards of 250 individual air strikes. Strikes included use of Tu-22M3 supersonic long-range bombers, which carried out 14 concentrated strikes over the last month.
On Wednesday, Russian President Vladimir Putin announced the complete destruction of the jihadists along both banks of the Euphrates River. Mentioning the continued existence of isolated hotbeds of resistance, Putin said that on the whole, the Syrian and Russian operation in the area has ended with a complete "routing of the terrorists."