MOSCOW (Sputnik) — Kremlin spokesman Dmitry Peskov said Wednesday in an interview with Russia's Rossiya 24 television channel that the continuous pressure Moscow has been exposed to is part of attempts to suppress the country's "sovereign voice".
"What we are now facing is a confrontation that is probably connected with attempts to strangle Russia's sovereignty, Russia's sovereign voice, with attempts to strangle Russia's growing capabilities and its ability to communicate its opinion to the world community, the growing potential, including technological, from the point of view of information technology, to broadcast its voice in terms of refuting those false news that go against our country," Peskov said.
The spokesperson added that the pressure has been growing as Russia gears up for the presidential election in March 2018.
"Many can confirm this. The pressure on our country is continuing and it tends to increase as the presidential election draws nearer," he told Rossiya 24.
Peskov noted that Russia is particularly concerned about the attitude that Russian media, such as the RT television channel, is facing abroad.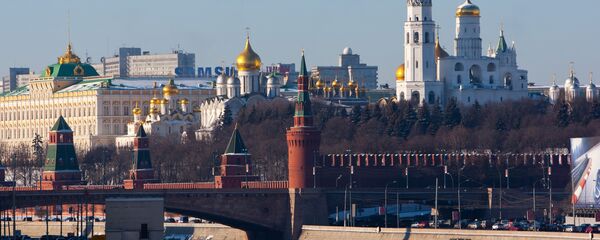 7 December 2017, 11:44 GMT
"Russia Today has faced controversial attitude abroad, to say the least. You know that Russia Today is having difficulties working at the Elysee Palace in Paris," he said, adding that the controversy was raised at a meeting between presidents Vladimir Putin and Emmanuel Macron in Versailles. "We have deep respect for the French president and appreciate his efforts to deepen Russian-French relationship. But we cannot agree with this [attitude]," he continued.
Over the last few months, Russian media outlets, such as RT and Sputnik, have faced significant pressure, particularly in the United States, with US authorities and the intelligence community claiming that they may have interfered into the US 2016 presidential election. The outlets, as well as Russian authorities, have repeatedly refuted the allegations as unsubstantiated. Last month, RT America and Radio Sputnik's US partner Reston Translator were forced to register as "foreign agents" following a request from the US Department of Justice.    

28 November 2017, 14:16 GMT
Amid hysteria over the presence of Sputnik and RT in several Western countries, a bevy of Russian-language Western media continued to freely operate in Russia, including the BBC, Reuters, Deutsche Welle, and Radio Free Europe/Radio Liberty, the latter funded directly by the US government.
The Kremlin spokesman pointed out that the law adopted in response to the treatment of Russian media abroad, requiring foreign-funded organizations to register as "foreign agents" in Russia will have no significant impact on journalistic work.
"The foreign agent law will in no way hinder the work of journalists. It merely regulates their work and adds certain responsibilities," Peskov said, adding that there will be no restrictions in place for foreign journalists wishing to attend this Thursday's end-of-year press conference by Russian President Vladimir Putin.
Putin will hold an annual end-of-year press conference where he is expected to address most pressing domestic and foreign policy issues.
"There are no restrictions [planned] for the press conference. Anyone who has submitted their application and abides by our laws [will be allowed to attend], while the work of the media is regulated by the law on the media," Peskov said.